| | | |
| --- | --- | --- |
| | Di dirokede iro | |
Rojek wek īro...
1927
Li Komara Tirkiyź, ya Dagirkerź Kurdistan ź, cara yekemīn, hźjmartina gel, hat ēźkirin.

Xebata bi ēek ya a bi dek ? – 1 –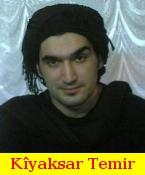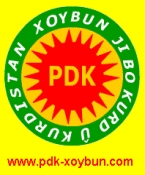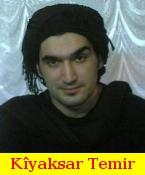 Xebata bi ēek ya a bi dek ? – 1 –
Kurdistan li dūr dike nalīn ū digrī
Rewža mi xerabe ne saxim ne mirī
Zarokno, xelas kin dayź ji bindestī
Bese ēend sale jiyana źž ū perīžanī
Pirs kir Cudī ; kanī tekožīn ū xebat
Ev ēi rawestane, gel būye weki lat
Tźy min dengź hźrsa Dijlź ū Firat
Lź di nav we de bźdengayī ū tebat
Cudī bersiv da bi dengeki xemgīn
bele iro buye doza rūnižtin ū civīn
Dibźjin dem nedema em rakin ēek
Ramyarī ku xebata me bibe bi dek
Pristīje edi kincźn kravata ū žavqa
Ū rūnižtina kursiyan ū li paž masa
Kevne edi žal ū žapikźn Pźžmerga
xebat u tekosina azadiya sere ēiya
Bilind dikin ji dijminre Ala ažtiyź
Di nav xwe jī dikin žerź birakūjiyź
riyźn diplomatīk me bike serbest
dixwazin ku me bikin pź serwext
rojhilat ji bīr kir Qasimlo ū Qazī
diben em ū Firs yekin ji nijade Arī
bakur bang dike bi ažtiya Erdoxan
Kevne riya xebata Mazlum Doxan
ji bīr kir ku li zindanź birźz Ocalan
Bažūr ji bir kir percen li Kurdistan
u ku Kerkūk dinale tene bin destan
Li rojava partī būne Kerožka Aviz
Her heyv dize u her yek ji dibź ez
Doz būye nasname bo 300,000 kes
ji bīrkirin, ku ev nasname ya Baas
Dayź eve iro ro rewža zarokźn te
Fermo ēend gotin jī dihelim bo te

* * *

Erź Cudī, di dilź min de buye aran
xemginim li ser neviyźn Mediyan
Kī goti azadī tź bi dan ū standinan
Bi kźre bikin ažtī civin ū rūžtinan
Firs dibźjin, ku Kurd ji mene arine
Tirk dibźjin Kurd Tirkźn ēiyayī ne
Suri dibźje Kurd gocbere Qereēīne
Ū Iraqa xwediya Enfalan ū Helebce
Na gelź min, jin xebata azadiye ye
Azadī mafe ū heqe ji her netew re
Ne bi riyź dīplomatīk Hitler tek ēū
Viatnam bi tekosin ū xebat azad bū
A?tī dive jźre hebe merc ū binetar
ku nemine yek kedxwar u kedkar
Ēiye ažtī ? ! ku mafź min tine be
Ēiye ? ! Ku girtīgehźn me hej hene
Žźx Saīd ū Seyid Riza būn qurban
Gelo, ew bīr nedibūn riyźn civīnan
Rabe bi ēek ū peynūsź dijī Dercal
ku disa dūbare be Helebce ū Enfal
Armanc tim bibe Kurdistanek yek
Xebat bibe ramyari u herwiah ēek
Tū nekuje, te be kustin, eve ceng

* * *

Bakur
Neraweste, Tirko nadi we azadīcan
ji bīr nekin darvekirina Rizo ū Pīran
Ū kūžtina zarokeki bi si u se gulan
li girtīgehź heya mirinź Apo Ocalan
pesi de azadi dure te, ažtī ez qurban

Bažūr
warź Žźx Mahmud Keyź Kurdistan
Kaniya xebata nemir Mistafa Barzan
Kurdistan percekiriye ne tenź Bažure
Lź bele Rojhilate ū Rojava ū Bakure
alikari bikin ku azad bibin bi hevine

Rojhilat
Welate min, bere dijmin te nexapīne
wesiyetnama Qazī Mihemed bixwīne
Ji bīr neke xebata simko ū Qasimlo
ew dixwestin we azad bikin ji firso

Rojava
Bere serhilana Qamižlo nebe a dawī
Bikin wek digot Apź Osman Sebrī
Ēi nasname, ku em dijīn di bindestī
Xwesteka me welatek Kurdī ū azadī
Bere dīsa Sīnema Amudź nežewite
Zarok dixazin Zanīngeh ū Dibistan
bixwinin rźzimanźn Mīr Bedirxan
bikin xebat bo azadi bi dek u ēek
bikin ažtī bi Ereban re ū Firs ū Tūrk


Kiyaksar Temir
Rojavayź Kurdistan, Bajarź Qami?lo
Dema nivisandina Helbestź : 01. 12. 2005
Dema wežandina Helbestź : 13. 05. 2007



Kiyaksar Temir
kiaksar2@yahoo.com

http://www.xoybun.com/extra/slide/Unbenannt-2.swf
http://www.pdk-xoybun.com/nuceimages/Newroz_Kurdistan_PDK_Xoybun_x1.jpg
http://www.pdk-xoybun.com/nuceimages/Nexise_Kurdistane_PDK_b.jpg
Mafź Kopīkirin &kopībike; PDK-XOYBUN; wiha, di xizmeta, Kurd ū Kurdistanź daye : Pirojeya Kurdistana Mezin, Pirojeyźn Aborī ū Avakirin, Pirojeyźn Cand ū Huner, Lźkolīna Dīroka Kurdistanź, Perwerdeya Zimanź Kurdī, Perwerdeya Zanīn ū Sīyasī, Wežana Malper ū TV yźn Kurdistane. Tev maf parastī ne.
Wežandin:: 2007-05-13 (3893 car hat xwendin)
[ Vegere ] | PRINTER