Apê Mûsa Anter ! Bi Tîr ' ek xwe beþdariyê bi me re bike ...

(752 gotin)
(3193 car hat xwendin)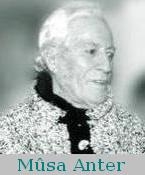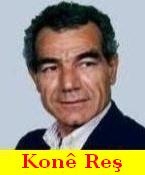 Apê Mûsa Anter !
Bi Tîr ' ek xwe beþdariyê bi me re bike ...
Îro 12 tebaxê ye. Ez li buroya mamoste Rezo Osê bûm. Careke din ez û wî ketin giftûgoyê de li ser biryara perlemana kurdistana baþûr. Li dor ku wê bi tenê þêweyê zimanê soranî bikin zimanê fermî û perwerdeyê di seranserî kurdistana azad de... Ji Zaxo ta bi Xanqînê, Zemar û Þingal ..

Piþtî ez hatim malê, min posta xwe vekir, min dît ku gelek name ji min re hatine, di nav wan de, du nameyan huþ û mejiyê min tevdan. Bi yekê re þadiya dil bilind bû, û bi yekê re þînê û mixabîniyê konê xwe di ser xeyalên min re vegirt.. Bi nameya yekemîn re min lîland û li çepkan da, ku vaye wê rojnameyek me a rojane, bi navê Azadiya Welat ji Amedê derkeve.. Ez dibêjim rojane, ango em kurd jî bûn wek xelkên cîhanê xwedî rojnameyeke rojane.

Ev pîroziyeke mezine ji gelê Kurd re. Bi vê gava dîrokî re xewnên Mîr miqdad Bedirxan, mîr Celadet, Cegerxwîn, Musa Anter, Adip Karahan û Huseyin Deniz di bin rastî... Hem jî xewnên me dibin rastî.. Em jî ji dil û can ji vê gava dîrokî re dilîlînin û þabaþ dikin... Û pêre pêre kurmanciya me bi me þêrîntir dibe ... Tevî ku li baþûrê welat zimanê dewletê bûye Soristanî..

Bi nameya duwemîn re, Hawara ku mir Celadet Bedirxan ji beri 74 salan ve di sirgunê de li Þamê, di bin þert û mecên dijwar û çetîn de di weþand, hat bîra min. Ew kovara ku mir naveroka wê bi berhemên kurmanci û soranî, bi tîpên latînî, tîp bi tîp berhev dikir, bê ku ev teknelojiya nû û hêsan ber dest be û rewþa wî a aborî pêre alîkar be... Wî Hawara xwe di nav Kurdan de belav dikir.. Va îro di bin navê wê kovarê de kovareke din bi navê ( Hawara Nû ), li Hewlêrê paytexta Kurdistana baþûr, bi tîpên erebî hem jî bi zimanê erebî derdikeve. Ji sedî 30 kurdiya latînî têde nîne. . ! ! Hejmara 19 an di Tebaxa 2006 de derketiye...

Ma gelo ev heyamê ku em bibêjin : Sal bi sal xwezî bi par... ? ! ! Xwezî navê wê ne Hawara Nû ba...Bi rastî vê Hawarê û nûbûna wê di vî heyamê azad de li Kurdistana azad, ez gelelkî aciz kirim... Nexasim ku ji çend rojan ve me seh kiriye, wê zimanê fermî û perwerdeyê di baþûrê welat de bibe zimanê soranî...

Lê bi bihîstina ku wê Azadiya Welat rojane bê weþandin, ez geþbîn bûm û hinekî bêhna min fireh bû û derket. Û di nav re gelek tiþt û miþt hatin bîra min û min ji xwe re got: pêwîste ku wêneyê mir Celadet Bedirxan, Mûsa Anter, Adip Karahan, Salih Elyûsifî, Huseyin Deniz . Li ser rûpelê pêþîn, ji hejmara pêþîn bin. Hem jî ku silavek wefadarî ji mîr Miqdad Medhet Bedirxan, bavê rojnamegeriya Kurdî re hebe... Û xwezî ev roj, berî mehekê ba, di roja 15 tîrmehê de ba, roja koçkirina mîr Celadet Bedirxan ba. Da ku wî ji gora xwe li Þamê bang xelkê dinyê û alemê kiriba û ji wan re bigota : mêzekin; vane zarokên min di hawara min de hatin, va Azadiya Welat rojane li Amedê(Diyarbekirê), derdikeve û di nav welatiyên xwe de belav dibe...

Pîroz be gelê kurd li we Azadiya Welat. Mijde bo we þehîdên peyva kurdî a resen, va zarokên we xwe ji dûv doza we a pîroz nedane alî, xewnên we kirin rastîn... De ka apê Mûsa Anter bi TÎR ek xwe beþdariyê bi me re bike û pê dilê xwarziyê xwe Huseyin Deniz xweþ bike !!!

Heger Hawara Nû þînî bi ser me de rijand, Azadiya Welat þadî bi ser me de barand.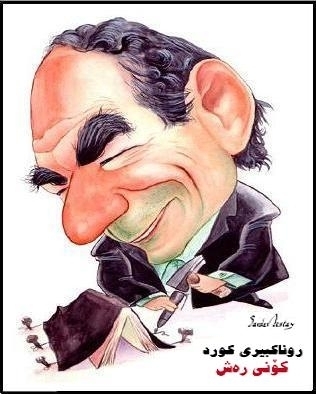 Ev wêneyê Konê Reþ, bi rîþa karekatêrê Kurd Serdar Kêsteyî hatiye çêkirin û di roja 15/07/2006 de, li Kurdistana baþûr di rojnameya Gep de hatiye belavkirin.

Rojavayê Kurdistan - Nanzdeh ê Meha Tebax ê Duhezarûþeþ ( 19. 08. 2006 )


Konê Reþ
http://www.xoybun.com/extra/slide/Unbenannt-2.swf
http://www.pdk-xoybun.com/nuceimages/Newroz_Kurdistan_PDK_Xoybun_x1.jpg
http://www.pdk-xoybun.com/nuceimages/Nexise_Kurdistane_PDK_b.jpg


[ Vegere: Konê Reþ | Indeksa Beþan ]