Komara Kurdistan ya demokratî ji kûr heta kûderê Kakþar Xurþîdî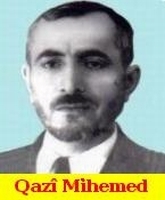 Mehabad, navenda herêma Mukriyan e. Herêma Mûkriyan û navenda wê bajar Mihabadê herçend di coxrafya Kurdistanê de ciheki biçûk bin ji, lê di dergûþa xwe ya kevnare de gelek qehreman û kesayetiyên mezin perwerandine. Mehabad ji ber gelek bûyerên siyasi, ferhengi û mêjûyi di dîroka serhildan û azadîxwaziya netewa kurd de xwedî ciheki taybetî ye. Bi taybetî di warê xebata ramyarî de gelê herêma Mûkriyan xwedî kedek dîrokî ne.

Zivistana sala 1946'an e. Ev zêdetir ji mehekê ye ku karbidestên HDK (Hizbî Dimokratî Kurdistan) bi hevkariya tevaya gelê herêmê ji bo karekî dîrokî mýjûlî amadekariyên berfireh in. Ji Makoyê, Xoy, Selmas û Urmiyê bigire heya Seqiz, Bane, Sine, Kirmaþan û Ýlam Kurd bûne mêvanên bajarê Mehabadê. Ji bona wê ji þêniya (nifosa) bajar di van rojan de pir zêde bûye û malên hemû xelkê Mehabadê di van rojan de xwedî mêvan in. Heya roja îro xelkê bajarê Mehabadê evqas mêvan di nava xwe de nedîtine.




Di roja 26'ê Kanuna duyan ya sala 1946'an de ala Kurdistanê bi merasimek tejî heyecan li navenda bajarê Mehabadê hat bilindkirin.

Îro 22ê Çileya sala 1946'an e. Herçend zivistan û hewa sare jî, lê tava rojê, germî û bedewiya vê roja pîroz zêdetir kiriye. Reng û rûyê bajar hatiye guherandin û di rûyê herkesî de ken û þadî tê dîtin. Ji zarokê heft salî bigire heya kalê heftê salî tev dizanin ku îro yê tiþtekî giring di Kurdistanê de biqewime. Gel hêdî-hêdî li her dera bajar ber bi meydana Çiwar Çira1 dimeþin.

Li her dera bajêr alên Kurdistanê tên dîtin û hatine hildan. Ala Kurdistanê bi sê rengên kesk, sipî û sor ku bi gule genim û þûrekê li ser di nivekê de hatiye çêkirin, bala herkesî dikiþîne ser xwe. Herkes bi rengekî rengên alê, gula genim û þûra li ser ala Kurdistanê ji xwe re þirove dikin.

Bi hezaran kes di qada Çiwar Çira da li benda destpêkirina merasîma þahiyê ne. Di vê dema çaveraniya gel de, pêþewayê mezin Qazî Mihemed hêdî-hêdî ber bi cihê xwe yê taybet dimeþe. Li dora wî gelek kesayetiyên navdar pêre dimeþin: Nemir Mela Mistefa Barzani, Hacî Baba Þêx, Qedrîbegê Diyarbekirî, helbestvanên millî Hêmin û Hejar Mûkriyanî, Sidiq Heyderî, Menaf Kerîmî, Se'îd Xan Homayun, gelek kesayetiyên nasandî li herêma Mûkriyan û hemû serokên êl û eþiretên kurd tev bi þahiyek bêdawî û bi hurmetek mezin rû bi rûyê gelê xwe disekinin. Derdora bilindahiya ku ji bo axaftýn û sekinandina pêþewa Qazî Mihemed, hatiye durist kirin, bi ala sê renga Kurdistanê hatiye xemilandin.

Pêþewayê Kurd bi wî rûyê xwe yê noranî bi ken û tewazu'ek bênimune diçe ser bilindahiyê û piþtî ku bi dûr û dirêji li ser coxrafiya û dîroka Kurdistan û mezlumyeta gelê kurd di hemû pêvajoyên dîrokê de, diaxive bi dengekî bilind û bi hissek teje hest û evîn wiha dibêje:

'' Emin be Xuda, be kelamî ezîmî Xuda, be niþtiman, be þerafetî millî Kurd, be alay muqedesî Kurdistan siwênd dexûm ke ta axir henasey giyanim û rijandinî axirin qetrey xiwênim, be giyan û be mal le rêy ragirtinî serbexweyî w berzkirdinewey alay Kurdistan da têbikuþim û nisbet be cimuhrî Kurdistan û yekîtî gelî Kurd û Azerbayîcanê, mutî'î û wefdar bimênim.''2

Di tona dengê wî de bawerî, evîn û paqijî tê bihîstin. Dengê wî yê bi selabet û þahiya ku di rûyê wi de tê dîtin, hêsirê çavên gelek kesan tînin xwarê.

Pirejinek 70 salî bi kelegirî dibêje: ''Oxeþ, nemirim û min dewleta Kurdistanê jî dit. Ax û hezar car ax ku kurê min þehîd bû û ev roja muqedes nedît, xweziya kurê min niha sax bûya, lê ew jî þehîdê vê dozê bû û xwîna wi vala neçû…''

Piþtî wê Mihemed Husên Sêyfi Qazî diçe ser dikê û Qazî Mihemed weke serokkomarê Kurdistanê bi gel dide nasandin.

Çepik û hawara dengê þahiya gel digehije esmanan. Ji nava dengê þahiya gel ken, girî û tilîlî tên bihîstin.

Di dîroka Kurdistanê de herçend beriya vê bûyera pîroz komara Ararat bi serokatiya Ehsan Nûrî Paþa li Agiriyê (bakurê Kurdistan) û komara Kurdistana Sor li Qefqaziya (paytexta wê Laçin) jî, ji aliyê Kurdan ve pêkhatibûn, lê komara Kurdistan li rojhilatê Kurdistanê xwediyê hinek taybetmendiyên cuda bû.

Wê rojê Mehabad wek paytexta komara Kurdistan hat ilankirin.

Zemineya ji bo pêkhatina komara Kurdistan demek dirêj bû ku hatibû darijandin




Di sala 1937'an de çend rewþenbîrên herêma Mûkiriyan li dora hev kom bûn û komela (Jiyanewey Kurd) damezirandin û di demek kêm de gelek mirovên ji malbatên mezin û di nava gel de bi hurmet, bûn endamên (J.K). Ji wan Ebdulrehman Zebihî, Mihemed Naniwazade, Qasim Qadirî, Mihemed Yaho, Husên Firoher, Mela Ebdullah Dawudi, Qadir Muderisî, Ebdulrehman Îmami Eqdem, Ebdulrehman Kiyanî, Sidîq Heyderî Faroqî, Hamid Mazuçî, Elî Mehmudî, Mihemed Selîmî, Mihemed Þahpesendî, Mihemed Eshabî, Necmedin Tuhîdî û piþtre Qazî Mihemed jî bi navê nihînîyê –kod- (Bînayî) bû endamê (J.K) û bi hatina Qazî Mihemed ya di nava vê rixistinê de gelê herêmê bi dilgerimiyek zêdetir, di çalakîyên siyasî de beþdarîkirin. Herwiha ji baþûrê Kurdistanê Mirhac û Mistefa Xoþnaw ji di yekemîn civîna damezrandina (K.J) Kurd de amedebûn. Dûroþma (J.K) serxwebûna Kurdistana mezin bû û hertim li ser bergê kovara Niþtiman (organa fêrmiya J.K) dinivisandin: Bijî Kurd û Kurdistanî gewre.

Di pênc salên desthilatdariya herêmek giring ji axa rojhilatê Kurdistanê (ji dawiya 1941'an heya dawiya 1946'an) çi bi fêrmî an jî ne bi fêrmî di destê kurdan de bû û tenê di van pênc salan de berdevkê resmiyê gelê Kurd hem li hemû herêmê û hem jî di têkeliyên bi derve re pêþewa Qazî Mihemed bû. Komela J.K di temenê çend sal xebata xwe de di nava gelê Kurd de cihek berfireh ji bona xwe vekir û bi çalakîyên xwe yên hemû alî rewþenbîriya siyasî-civakî di nava gel de pêþxist. Di nava vê rêxistinê de Kurdên her çar perçên Kurdistanê dikarin bibin endam, lê bi mercekî ku bi çi awayan xiyanetê li doza xwe neken û her kesê ku di destpêkê de dibû endamê JK ji li ber çavgirtina 6 xalên jêr sê caran bi Qûranê sond dixwar:

1. Bi çi terz û þêweyan xiyanetê li gelê Kurd neke.
2. Xebat ji bo serxwebûna Kurdistan.
3. Ne bi riya pênûs û ne jî bi riya ziman sirên rêxistinî (hizbî) eþkere neke.
4. Heya dawiya temenê xwe weke endam di nava hizbê de bimîne.
5. Hemû jin û mêrên Kurd ji xwe re xwiþk û bira bihesibîne.
6. Bi bê agehdarkirina rêxistinê, nebe endamê tu rêxistin û hizbekê.

Pêkhatina komara Kurdistan derfetek zêrîn û dîrokî bû ku birêveberên dewleta Kurdistanê dixwestin bi baþtirîn þêwe, ji vê derfeta giring mifayên herî baþ ji bo þiyarkirina gel, avedankirina Kurdistan, û bilindkirina pileya xwindewariyê di nava gel de wergirin.

Pêþewa Qazî Mihemed mirovekî rewþenbîr û zana bû û bi perspektîvên xwe yên pêþvero, dixwest bi hemû þêweyan ji gel re xizmetê bike. Dema bû serokkomar ji barekî giran li ser milên xwe hiss dikir û ji bona wê jî di hemû waran de, xwe qerdarê xizmeta ji bo gel dihesiband. Berî ragehandin û ilankirina komara Kurdistan endamên kabîneya wezîrên dewletê bi vi þêweyi hatin diyar kirin:

1. Hacî Babe Þêx: Serokwezîr
2. Mihemed Husên Xanî Sêyfî Qazî: Wezîrî Ceng û parastin û hevkarê serokkomar
3. Sidîq Heyderî: Wezîrê propaxande
4. Menaf Karîmî: Wezîrê Perwerde û hinkariyê
5. Mihemed Emîn Mu'înî: Wezirê karê hundurin ( Wezîr navxwe)
6. Seyid Mihemed Eyûbyan: Wezîrê Tendurustiyê
7. Ehmed Îlahî: Wzîrê aborî
8. Xelîl Xusrewî: Wezîrê Kar
9. Kerîm Ehmedyan: Wezîrê post û telegiraf
10. Hacî Mýstefa Dawudî: Wezîrê Bazirganiyê
11. Mela Husên Mecdî: Wezîrê dadperweriyê
12. Mihemed Welîzade: Wezîrê kiþtûkal
13. Hacî Ebdulrehman Îlxanizade: Wezîrê tegbîr û meþweret pêkirînê
14. Îsmaîl Îlxanîzade: Wezîrê rê û ban.
Her wezîrekî di kar û barê xwe de bi baþtirîn þêwe wezîfeyên xwe encam didan û bi giþtî dewletê pirojeyên mezin dabûn ber xwe.

Di demek kêm de rewþa aborî û civakiya gelê herêmê hêdî-hêdî rengê guherandinê bi xwe ve didî.

Bi taybetî di warê ragehandin û weþandina rojname, kovar û pirtûkan de, xwindin û nivîsandina bi zimanê kurdî û bilindkirina rewþenbîriya gel, gavên mezin hatin avêtin. Rojnameya Kurdistan organa fêrmiya HDK û Kovara Kurdistan, kovara Girûgalî mindalanî kurd ji bo zarokên kurd, Hawarî Niþtiman û Hawarî Kurd ku organa Yekîtiya Ciwanên Kurdistanê bû û li bajarê Bokanê ji kovara Helale ku þaxê HDK li wir ji bo gel dida weþandin.

Li ser peþniyar û daxwaza serokkomarê Kurdistan di 14'ê adara sala 1946'an Yekîtiya Jinên Kurdistan hat damezrandin. Ev yekemin car bû ku di dîroka siyasî-civakiya Rojhilatê Kurdistan de pêngavek wiha giring dihat avêtin. Pêþewa Qazî Mihemed ji bo vexwindin û teþwiqkirina keç û jinên Kurd beriya herkesî ji hevala jiyana xwe Mina Qazî dawa dike ku bibe endama birêveberiya yekîtiya jinên Kurdistan û hemû ziv û zêrên xwe pêþkêþî HDK bike.

Di wê serdemê de ji ber etmosfêrê paþverotî û adet û orfên civaka bi bîr û bawerên derebegatî û feodalîzmê, gelek kes li hemberî vê kiryara bi kêr û bêra nemir Qazî Mihemed de, reaksyonek tund û nigativ didin xûyakirin. Heta hinek melayên herêmê dibêjin:'' Qazi Mihemed kafir bûye…''3 Lê serokkomarê Kurdistanê di mizgefta Ebassaxa de, heya sê rojan bi pêkanina civînên þiwir û axaftinê bi þêweyek mentiqî herkesi razî dike ku di komarek demokratîk de wekheviya jin û mêran di hemû waran de mercekî esasî ye. Di wan sê rojan de civîn di etmosfêrek azad de bû cihê pirsin û bersivdayina di navbera her du aliyan de. Di dawiyê de hemû kesên amade di civînê de bîr û rayên pêþewa Qazî Mihemed di derbarê wekheviya mafê jin û mêran pejirandin.

Mina Qazî di vê derbarê de dibêje: ''Rojekê nemir Qazî Mihemed bi rûyekî xweþ û kenek teji hiss ji min re got: divê tu bêtir ji herkesî di kar û barên civakî-siyasî de beþadariyê bikî ku jin û keçên Kurdistanê te ji xwe re weke nimune bibînin…, Te zêr û zîv ji bo çine, her tiþtê me ji bo gelê meye…''4

Birêveberên komara Kurdistan bihayek giran didan dersxwindina zarokên Kurd. Ji bona wê ji komek ciwanên Kurd ji bo dersxwindinê bo Bako paytextê Azerbaycanê tên þandin. Ji bo bilindkirina ronakbîriya gel bo yekemîn car sînema li bajarê Mehabadê hat sazkirin. Beriya wê Komeley Jiyanewey Kurd bi pêkanîna komek þanoya Kurdî, dîroka siyasî, rezalet û êxsiriya gelê Kurd ya di destê dagirkerên reng bi reng de, bêtir bi gel dabû famkirin û zemîneya pêkanîna dewletek Kurdî di mejî û bîr û rayên gel de afirandibûn.

Di 330 rojên temenê komara Kurdistan de bo yekemîn car kêmnetewên Yehudî û Ermeni gehiþtin mafên xwe yên kulturi û çandi û ew di hemû waran de xwediyê mafên xwe yên millî û mezhebî bûn. Herwiha di hemû temenê komara Kurdistan de tenê yek kes bi navê Mehmudyan ew ji ji ber dijminatiya þexsî hat kuþtin. Ji bona wê ji komara Kurdistan komarek demokratîk bû.

Herwiha di wî temenê kurt de cara yekemîn bû ku Kurd bûbûn xwediyê artêþek rêk û pêk. Di pêngava yekemîn de 1200 serbaz û 70 serleþkeran hêza artêþa komarê pêkanîn û di nava artêþa komara Kurdistan de çar kesayetiyên Kurd pileya generaliyê standin:

Mistefa Barzani, Heme Reþid Xanê Baneyi, Mihemed Husên Sêyfî Qazî û Omerxanê Þikak (Omerxanê Þerîfî).

Ji xeyni wê di komara demokratîka Kurdistanê de Kurdên her çar perçên Kurdistanê dihatin dîtin. Ji bona wê jî hêviyek mezin hebû ku di paþerojê de hevgirtinek bihêz di nava Kurdên herçar perçên Kurdistanê de bê duristkirin.


Mihatma Gandîyê Rojhilata Navîn:

Pêþewa Qazî Mihemed
( 1898 Mihabad - 31. 03. 1947 Mihabad )

Mêrxasê nemir Qazî Mihemed kurê Qazî Elî ye ku li sala 1898'an li bajarê Mehabadê ji dayik bûye. Karê qezawetê di herêma Mûkriyan de ji sedan sal berê di destê Qazîyên vê malbata bihurmet de bû û ev kar mîna mîratekê ji bav gehiþtiye kur û heya þehîd ketinê pêþewa Qazî Mihemed karê qezawetkirinê di nava gel de berdewam kirine. Tiþtê herî giring di qezaweta pêþewa Qazî Mihemed de ev bû ku dema wî li ser çareserkirina pirsgirêkekê biryar û qirara xwe dida diyarkirin, piþtî dayina biryarê nemumkîn bû ku ji biryara xwe poþman bibe. Li ser vê rastî û helwesta xwe ya mirovanetiyê di nava gel de pir dihat hezkirin û gelê herêmê ji bo çareserkirina gîrûgirftên xwe tim hawara xwe dianîn mehkemexana wî. Qazî Mihemed li cem Qazî Eliyê bavê xwe dersa qezawetkirinê (qazîtiyê) hînbûbû û di temenê ciwaniyê de piþtî ku mamê wî nemir Ebulhesen Sêyif Qazî li sala 1929'an ji karê xwe yê riyaseta ferheng û çanda Mehabadê istifakir di hemen salê de ji aliyê dewleta navendiya Îranê ya wê demê de bû berpirsyarê giþtiyê ferheng û çanda bajarê Mehabadê. Di yekemîn sala xebata xwe de li bajarê Mehabad bo cara yekê du dibistan ji bo xwendevanên kur û keç damezirandin û di warê xizmeta ji bo gel, dîsan di wezîfeyên dewletê de jî ew evîna ji bo xizmeta gelê Kurd di xebata xwe de da diyarkirin. Malbata Qazîyên navdar heftsed sal zêdetir e ku li herêma Mûkiryan bi cîhwar bûne û di hemû dewranan de endamên vê malbatê xizmetên mezin ji gelê herêmê re kirine.

Di þerê cîhanê yê yekemîn (1914- 18) de Qazî Fetah li hember hêriþa Rusên Tizarî ya li ser bajarê Mehabadê, heya dilopa xwîna xwe ya dawiyê çeperê þer berneda û piþtî ku kurê wî û endamên din yên vê malbatê Mîrza Se'îd Qazî û Mîrza Mihemed Elî Qazî bi destê Rusên Tizarî hatin kuþtin ewî jî bi mêranî canê xwe li ser parêzvaniya ji welatê xwe da fîdakirin.

Nemir Qazî Mihemed ji ber taybetmendiyên xwe yên exlaqi û civakî di nava gel de xwedî rêz û hurmetek mezin bû. Þahîdên zindî ku ew ji nêz ve dîtine vê rastiyê didin isbatkirin:

Mina Qazî dibêje:'' Wî bi çavekî mezin li kesatiya jinê dinêrî û hemû zarokên Kurdistanê mîna zarokên xwe dihesibandin. Hertim ji min re digot Birale (heval) û ez weke piþtivanekê ji xwe re dihesibandim û wî dixwest bihayê þexsiyeta jina Kurd di civaka Kurdistanê bilind bike…''.

Kurmam an ji pismamê Qazî Mihemed general Mihemed Husênxanê Sêyfi Qazî di komara Kurdistan de mîna wezîrê ceng û parastinê, xwedî roleke mezin û berçav bû û ji bo parastina sînorên dewletê bi hemû þêweyan þiyan û liyaqeta xwe dida xuyakirin. Di nava gel de bi merdî û mêrxasiyê bi nav û deng bû. Ew mirovekî netirs û bi þuca'eta xwe di nava gel de xwedî hurmetek mezin bû.

Ebulqasim Sedrê Qazî birayê biçûkê pêþewa Qazî Mihemed ji di çardehimin dewreya parlimana Îranê de nûnerê gelê Mehabadê bû. Tewazu'î û camêriya Sedrê Qazî di nava Kurdan de deng vedabû. Wî hemû çaxê jiyana xwe ji bo çareserkirina pirsgirêkên gel danîbû û hertim xwe mîna xizmetkarekî gelê xwe dihesiband.


Hêþta salek ji temenê pirbarê komara demokratîka Kurdistanê derbas nebûbû ku rewþa siyasiya cihanê hat guherandin û Yekîtiya Sovyetê li ser wergirtina imtiyaza petrola bakurê Îranê leþkerê xwe ji nava axa Îranê paþ de kiþand û li hemberî komara Kurdistan û Azerbaycanê ji siyasetek du rûtiyê niþan da.

Dewleta Îranê ber bi Tebrêz paytexta komara Azerbayicanê hêriþên xwe dest pêkirin û di demek kêm û bi bê berxwedan, birêveber û serokkomarê Azerbayicanê (Ceefer Piþewerî) reviyane Sovyetê. Azerbayican careke din kete jêr desthilatdariya dewleta navendiya Îranê. Di Azerbaycanê de di çaxê çend rojan de bi hezaran kes hatin kuþtin, lê li Kurdistanê rewþ bi awayek din bû.

Ferqa herî mezin di navbera komara Azerbayican û Kurdistanê de rewþa demokrasiyê bû. Komara Kurdistan bêtir bi gel ve girêdayî bû û ev rastî di çaxê têkçûna her du komaran de ji xelkê re eþkere bû. Piraniya gelê Azerî bi têkçûna desthilatdariya Piþewerî þad û kêfxweþ bûn, lê di rojên dawiya komara Kurdistan de Mehabad bajareki herî xemgînê cihanê bû. 11 meh temenê dewleta Kurdistanê de gelê Kurd bi baþî tama serbestî û azadiyê kiþandibû.

Serokkomar û birêveberên komara Kurdistan piþtî ku hêza dewleta Îranê bi serokatiya serleþker Fezlula Humayunî ber bi Kurdistanê hatin, civînek pêkanîn û li ser rewþa wê demê bi hevre þêwirîn.

Di wê demê de hinek serok eþîretên Kurd (Dêhbukrî, Mameþ û Mengor) xwe teslîmî hêzên artêþa Îranê kirin û birêveberên artêþa Îranê bi pilanek gemar dixwestin Kurdan bi destê Kurdan bidin kuþtin û bixwe ji bi bê xisarek canî û maddî carek din desthilatdariya xwe li Kurdistanê damezrînin. Li hemberî vê siyaseta dewleta Îranê, serokkomarê Kurdistanê bi mercekê razî bû ku bajarê Mehabadê teslîmî dewleta Îranê bike: ew jî ev bû ku eger dewleta Îranê bixwaze bi hêza êl û eþîretên xayin bajar Mehabadê talan bike û gelê bêguneh bêkuþtin, hêza artêþa komarê ji yê li hemberi artêþa Îranê þer biken. Li ser vê helwesta Qazî Mihemed M. Barzani ji amadebû ku hemû hêza xwe li dijî artêþa þahê Îranê bikar bine.

Ev tedbîra Pêþeway bû sebeb ku berevajî rewþa komara Azerbayicanê ku bi hezaran kes hatin kuþtin û xisarek mezin bi gel ket, li Kurdistanê talan, kuþtin û qetilûam pêkneyên.

Li ser vê baweriyê, Pêþewa û hevalên xwe di dawiyê de li Miyanduabê xwe teslîmî hêzên artêþa Îranê kirin. Lê Îranê bi taktîk careke din ew þandin Mehabadê. Herçend Qazî Mihemed dizane ku ewê bên îdamkirrin jî, lê wî sonda xwe ya wefadarî û bi tenê nehiþtina gelê Kurd, ji bîr nekiribû. Ji ber hindê jî bi pejirandina hemû berpirsyariyên çaxê desthilatdariya serokkomariya xwe, xwest ku ger sûçekî wan hebe (ku di rastiyê de sûçek nekiribûn), hisaba her tiþtî ji wi bê xwestin.

Ev karê serokkomarê Kurdistanê bû sedem ku desthilatdarên dewleta Îranê hemû kina xwe ya li dijî gelê Kurd li ser serê Qazî Mihemed û hevalên wî vala biken. Di hemen çaxî de herçend Pêþeway berpirsyaritiya her tiþti girtibû ser stoyê xwe jî, li Seqiz û Mehabadê çend kesên din jî hatin þehidkirin.

Ji wan Ebdulaxan Metîn, Mihemedxan Daniþwer, Sidîq Es'edî, Resulaxa Mehmudî û Elî Ciwanmerdî li bajarê Seqiz hatin îdamkirin.

Edbullah Rûþenfikir, Xelîl Mazoçî, Resul Nexedeyî û Mihemedî Nazimî jî piþtî þehîdkirina birêveberên komara Kurdistan hatin þehîdkirin.




Dema ku Komara Kurdistan bi komarên ku îro Kurdistan li jêr desthilatdariya wan de dinale ( Komara Îslamiya Îran, Îraq, Tirkiye û Sûriye), bê qiyas û berawirdkirin, ferqên mezin di navbera wan de tên dîtin.

Bi taybetî komara Îslamiya Îranê û komara Kurdistan di gelek waran de bi hevre nayên beawird kirin. Di temenê tije tirajidî û wêrankariyên komara islamî de heya niha bi hezaran kes hatine kuþtin û îdamkirin. Azadiya bîr û ramanên siyasî di komara islamiya Îranê bi þêweyek hovane tên serkûtkirin, lê naveroka rojname û kovarên ku di çaxê komara Kurdistan de derketine, didin xuyakirin ku herkes li gor ramanên xwe dikare binivîse û bixwîne. Di Îranê ji xeyni gelê Faris gelên Kurd, Azerî, Ereb, Turkmen, Gilek û Beluç jî dijîn, lê tev ji gelek mafên xwe yên netewî û olî bêparin. Di coxrafya biçûka komara Kurdistan de kêmnetewên Yehudî, Ermenî û Azerî xwedî hemû tiþtekî bûn. Xwindina bi zimanê zikmakî û hebûna nûnerê wan di nava karbidestên dewleta Kurdistanê de, du tiþtin ku demokratîkbûna komara Kurdistan didin bi dost û dujminan re didin selimandin.

Piþtî ku artêþa Îranê paytexta Kurdistanê Mehabad dagîrkirin, general Mistefa Barzani piþtî ku birêveberên komarê gehiþtin wê qenae'tê ku nikarin li hemberî artêþa Îranê li berxwe biden, bi hemû hêza xwe û çar efserên Kurd Îzet Ebdulezîz, Mistefa Xoþnaw, Mihemed Mehmud û Xeyrullah Ebdulkerîm ber bi sînorên baþûrê Kurdistanê çûn û li wir piþtî ku her çar efserên Kurd xwe teslîmî karbidestên Iraqê kirin, bi terzekî tirajedîk hatin îdamkirin.

Nemir Barzani û 500 pêþmergeyên wî ji meþa xwe ya dîrokî û pir bi zehmet, ber bi yekîtiya Sovyetê dan destpêkirin û piþtî ku çendin hêrîþên dijwar ji aliyê artêþa her sê dewletên Îran, Tirkiye û Iraqê li hemberî hêzên Barzaniyan bi ser neketin û di navbera wan de þerên giran qewimîn, Mistefa Barzanî û hemû pêþmergeyên wî derbasî axa Yekîtiya Sovyetê bûn û piþtî 13 salan li sala 1958'an vegerin Iraqê û di sala 1963'an de dest bi þoreþa Eylolê ya li dijî dewleta Iraqê kirin.

Temenê komara Kurdistan herçend kêm û kurt bû, lê bo yekemîn car Kurd di diroka xwe de bûn xwedî dewletek serbixwe û demokratîk. Canfîdayiya serokkomarê Kurdistan Qazî Mihemed heya roja îro jî ji keç û xortên Kurdistanê re bûye sîmbola berxwedan û canfîdayiyê.

Serokên komara Kurdistan di çaxê mehkemekirina eskerî de ku birêveberên dewleta Îranê bi þêweyek formalîte pêkanîbûn, bi netirsî û qehrtemanî ji mafê gelê xwe parêzvanî kirin. Wan heta di kêliyên dawiya jiyana xwe de ji bi þanazî serê xwe bilindkirin û ji bo xelaskirina canê xwe serî li hember dujiminê hov netewandin.

Hinek dîroknivisên Îranî bi wê xereza xwe ya þovenîstî ku herdem li dijî pirsgirêka Kurd di nivîsên xwe de dane xuyakirin, karê serokkomar û birêveberên dewleta Kurdistanê xwesiparî an ji xwe teslîmkirin dihesibînin, lê berevajî vê bir û raya wan ya çewt pêþewa Qazî Mihemed bi vî karê xwe hem canê bi hezaran kesan ji kuþtinê rizgar kir û hem jî nehiþt ku bajarê Mehabad û gund û bajarên din yên Kurdistanê bi destê dewleta Îranê bên wêrankirin û þewtandin. Naveroka mehkemekirina pêþewa Qazî Mihemed û hevalên ku niha bi nivîski ketiye destê rojnamenivîsên Kurd vê rastiyê baþtir diselmine.

Di cihekî mehkemekirinê de dema ku serleþkerekî Îranî Kurdan tehqîr dike Qazî Mihemed li ser serê wî diqêrine û bi hêrs jê re dibêje:'' Hûn dikarin min bikujin, lê heqê we tuneye ku sivkatiyê bi gelê Kurd biken, ev bo kevçikek xwînê li ber we naparêmewe. Min dikarîbû bi rehetî weke Piþewerî birevim lê bo kûderê herim­? Vê derê cihê bav û kalên mine û ez di rojên tengaiyê de gelê xwe bi tenê nahêlim…'' Piþtre Qazî Mihemed bi toreyî sendeliyekê (kursiyê) radike ku li wi serleþkerî bêxe û dadgeh neçar dimîne ku navberekê bide karê xwe yê mehkemekirinê.

Ev cesaret û mêrxasiya Qazî Mihemed hemû berpirsyarên dadgehê heyretgirtî dike.
Fîdakarî û canbaziya serokên komara Kurdistan heta roja îro jî di nava destan û stranên Kurdî de reng daye û meydana Çiwar Çira heta roja îro jî, ji bo hemû Kurdên Kurdistanê bûye cihekî paqij û muqedes. Cihê ku rojekê komara Kurdistanê li wir hat ragehandin û di 31ê Marasa sala 1947'an canê her sê Qaziyan bi þêweyek dûr ji exlaqê mirovanetiyê di qada Çiwar Çira de, li ser axa Kurdistanê hat girtin.

Ew ji me re bûn rêber û ewê di dîroka doza azadîxwaziya gelê Kurdistanê de hertim bên bi bîranin. Riya wan û hemû þehîdên doza bi þan û þerefa Kurdistanê yê herdem bê þûpandin.

Salroja 56 saliya damezrandina komara Kurdistan li hemû gelên azadixwazên cihanê û bi taybet li gelê qehreman perwerê Kurdistanê pîroz be.


----------------------------------------------------
Têbinî û jêrnivîs:




1. Çiwar Çira: Meydana navenda bajarê Mehabadê ye. Di çar beþên meydanê de çar tirik hatine çeqandin û li ser her tirekê lamp (çira) yek hatiye bi cih kirin. Ji bona wê ji ev meydan bi Çar Çira meþhure. Niha li cihê çar çirayên meydana Çiwar Çira heykelê çar Þêran hatiye bi cihkirin.
22'ê Marsa sala 1946'an komara Kurdistan li meydana Çiwar Çira hat ragehandin û di 31'ê Marsa sala 1947'an de ji serokkomarê Kurdistan bi hevalên xwe Sedrê Qazî û Sêyfê Qazî li Çiwar Çira hatin þehîdkirin. Ji bona wê ji Çiwar Çira di dîroka Kurdistan de cihekî muqedes û pîroz e.

2. Sonda pêþewa Qazî Mihemed bi zarava Kurmancî wiha ye:
'' Ez bi Xwedê, bi kelama ezîm (mezin) a Xwedê, bi niþtiman, bi þerafeta netewa Kurd, bi ala muqedesa Kurdistanê sond dixûm ku heya nefesa canê xwe ya dawiyê û rijandina dilopa xwîna xwe ya herî dawiyê, bi can û mal di riya ragirtina serxwebûn û bilindkirina ala Kurdistanê bixebitim û nisbet bi komara Kurdistan û yekîtiya gelê Kurd û Azerbayicanê, mutî'î û wefadar bimînim.''

3. Got û bêj bi lawê pêþewa Qazî Mihemed Eli Qazî re.

4. Got û bêj bi xanima pêþewa Qazî Mihemed Mina Qazî re.

----------------------------------------------------
Ji Dengê Kurd hate wergirtin:
http://www.dengekurd.20m.com/











Mafê Kopîkirin &kopîbike; PDK-XOYBUN; wiha, di xizmeta, Kurd û Kurdistanê daye : Pirojeya Kurdistana Mezin, Pirojeyên Aborî û Avakirin, Pirojeyên Cand û Huner, Lêkolîna Dîroka Kurdistanê, Perwerdeya Zimanê Kurdî, Perwerdeya Zanîn û Sîyasî, Weþana Malper û TV yên Kurdistane. Tev maf parastî ne.

Weþandin:: 2003-04-18 (4435 car hat xwendin)

[ Vegere ] | PRINTER