Nivîskar : Adil Duran - Çîroka : XALÊ CÝNDO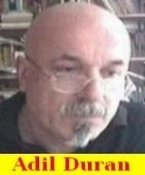 XALÊ CÝNDO
Çîrokên Rojdîtî - 1 -
Tê gotin di dema ku li Erzinganê zelzele bûye, xalê Cindo xortekî nehsalî ye.
Di zelzelê de erd diqeliþi û Xalê Cindo dikeve bin erdê.
Piþtî erdhejanê xelk li mirî û zindiyên xwe digerin.
Nalînek kûr di bin erdê de tê.
Gundî bi tevr û bêrê erdê dikolin û xalê Cindo di bin erdê de zindî derdixînin..
Ji wê rojê pê de xalê Cindo di nav xelkê de wek mirovek bi keramet tê nasîn.

Tê gotin :
- Rojek ji rojan gundiyek bi çêleka ( mange ) xwe ve tê ba xalê Cindo û hal û mecalê xwe ji wî re dibêje :
- Ez ketime bextê te û xwedê. Manga min di rojê de beroþek þîr dida.Hin xêrnexwazan çavînî kir. Niha ji þîr qut bûye.

Xalê Cindo piçek mû ji mangê digiri û tifê dikê û di nav lepên xwe de wek bendikek dirêj dike û wî bendikî bi guhê mangê ve girêdide û dibêje :
- Ji niha pê de evê dîsa þîr bide lê divê tu heqê min bidî.
- Heqê te çiqase ?
- Zêrek
- Ez zêreki ji te re ji ku bibînim ?
- Ji ku tînî bîne. Dema ku tu heqê min nedî wê manga te gewer be ! Cinên serê min wisa razî dibînin

Gundî bê çare zêrekî dide û tere. Mange dîsa wek berê di rojê de beroþek þîr dide. Dema ku xelk û alem vê kerametê pê dihesin, mirovên nexweþ, kor, topal û ker yên xwedî dert û kul her roj tên ba xalê Cindo..

Dîsa rojek ji rojan kokimek bûka xwe digirin û tên ba xalê Cindo û derd û kulên xwe ji wî re dibêjin. :
- Xalê Cindo .. Min wa bûka ji kurê xwe re anî, zarokên wê çênabin.. Emman ez ketime bextê te..

Xalê Cindo bi bûkê re tenê dixwazi di odê de bimîni. Pencereyên odê bi astiran ve digiri û odê tarî diki.Hê ku derî negirtiye xezûrê bûkê û mêvanan derdixîni der û dibêji wan :
-Vaya cinî bûye, divê berî hertiþtî ez cinan ji serê wê derxînim, dûre ji li ser navika wê binivîsînim..

Piþtî ku deriyê malê jî digiri û bi bûkê re dikevi misletan. :
-Tiþtên ku ez dixwazim ji te bipirsim divê tu rast bibersivîni.. Tu camêrê xwe hez dikî ?
- Na xêr. Bi riza malbatan hatime markirin, dilê min li wî nakele..
- Hûn bi hevra ketin minasebeta cinsî ?
- Belê.. Lê min nexwest..wî bi zorê kir û nekir !
- Çawa?
- Ez hîn jî qîz im.Wî tiþtikê xwe li ser a min cirecir kir, dilê xwe rehet kir..wisan çend caran..

Xalê Cindo findekê pêdixîni û piçek odê ronahî dike û dibêjê :
- Divê tu xwe tazî bikî
- Na ! Ayibe..nabe... Ez laþê xwe tazî nakim..
- Çare tune.. Wekî din ez nikarim ji rewþa te re çareyekê bibînim...

Dema ku bûk xwe tazi dike.. xalê Cindo li hawîrdorê wê re tê û tere û lê temaþe dike. Hêdî hêdî destên xwe li ser laþê wê digerîne û temas dike. Her ku destên wî diçe ser dilê bûkê germ dibe û canê wê dixwazi. Hevûdu maç dikin û daxwaziya dilên xwe bi bextewarî tînin cîh...

Dûre bûk dibêji :
- Ji îro pê de tu mêrê min î. Divê tu min ji xwe ra mahr bikî.
- Çawa ?
- Ezê mêrê xwe berdim, dûre tu were min ji xwe re mahr bike.

Herdu cilên xwe li xwe dikin û deri vedikin û derdikevin der.

Xalê Cindo dibêji :
- Ji îro pêde heya neh mehan wê zarokek wê çêbibe lê divê ew mêrê xwe berde. Ew ku mêrê xwe bernede di xana we de wê pênc kes bimirin..

Xezûrê bûkê ecêp dimîni û jê pirs dike :
- Ma tiþtên halo dibin..
- Belê, cinên xirab li wê girtine..min kir nekir ji wan cinan azad nebû.. Yek çare heye ew jî divê ew mêrê xwe berde..

Piþtre daxwaza wan çêdibe. Bûk mêrê xwe berdide û çend sal þûnde xalê Cindo wê ji xwe re mahr dike û bi hevre nefiyê penaberiyê dibin û tên Almanyayê.

Piþtî nefîbûna wan gelek sal derbas bûbûn.. Zarokên wan jî zewicî bûn û herdu jî pîr û kal bûbûn. Di vê encamê de min ew naskirin û þevekê li wana bûbûm mêvan.

Wê þevê piþtî xwarin û vexwarinê xalê Cindo serpêhatiyên xwe pêþkêþî me kir.. Hevalê min carek din ji wî pirsî :
- Xalê Cindo, ma tu hê ji xaltika min Eyþê xanimê hez dikî ?
- Bi xwedê.. ez roj heya êvarî li herêmê van kolanan digerim. Jinên Almanan wek kevokin. Ma hertim goþtê miriþkan tê xwarinê ? Ez jî dixwazim carekê goþtê xezalan bixwim.. Lê dinya ne mîna berê ye.. Hertiþt hatiye guhurandin. Bi tenê hezkirin kêr nayê.. Divê mirov xwedî dirav be.. ( pere ) Ez dixwazim bi jinek Almanre bizewicim lê nizanim rewþa wan ya aborî çawaye..

Di wê encamê de xaltîka Eyþê ji cihê xwe rabû û got :
- Tu miroveki bêbextî.. Min ji bo evîna te mêrê xwe berda, du zarok jî diyarî te kir.. Xwezî tu jinek dewlemend ji xwe re mahr bikî û em jî ji vî halê xizan azad bin..

Xalê Cindo ecêbmayî ma û got :
- Ma tu razîyî ?..
- Belê.. Aha va zilamên han bila þahidên me bin.. Û ew zimanê Almanî jî dizanin.. Bbila arîkariya te bikin û jinek dewlemend ji te ra bibînin..
- Bi xwedê gotina te ye..

Wê þevê em razan. Sibe bû û me taþtê xwar û ji mal derketin. Xalê Cindo gopalê xwe girt û peya meþiya.. Xaltika Eyþê jî li rex me bû û gote me :

- Niha ez diçim berber. Divê xwe wek jinek Alman bixemilînim, piþtre jî dakevim sûkê cil û corên nûjen li xwe kim.

Êvarî hûn hatin malê, xalê Cindo dema ku qala min kir û pirsî hûnê bêjin :
"Ew suket çû ba kurê xwe. Me ji te re jinek Alman ya dewlemend dît. Dixwazî em herin bînin vir yan em bi hevre herin xwarinxanekê hevûdu bibînin. Dema ku xalê Cindo razî be.. Ez li wir nêzîkî malê me.. Werin min li gel xwe bibin ba wî"

Lîztik gelek xweþ bû û me dest bi lîztikê kir.Xalê Cindo razî bû û lotik da xwe û got :
- Xwedê ji we razî..heya ku saxbim vê qenciya we jibîr nakim. Hûn herin jinikê bînin mal. Heya wê demê ezê jî serê xwe kur bikim û xwe bixemilînim. Dema ku ew hat hûn piçek li ba min rawestin û dûre xatir bixwazin herin. Ezê xwe li sîngekî wê xînim ewê heya mirinê min bernede û bibe bermaliya min..

Hevalê min rabû çû ba xaltika Eyþê, wê xwe xistibû dewsa jina Alman da ku wê li gel xwe bîni mal.
Gelek wext derbaz bû, derî hat lêdan. Rabû min derî vekir. Hevalê min û xaltîka Eyþê ketin hundurê malê.

Min ew nas nekir.Mîna jinên Almanan bû.Bi hiþ navê xwe ji min re got..û min dengê xwe bilind kir. :
- Herzlîch willkommen frau Gabriella ( Tu bixêrhatî xanim Gabriella )

Xalê Cindo hema bi lez hat gel xanimê û destê wê maç kir û xêrhatinek da û em bi hevre rûniþtin. Xanim Gabriellayê go u got. :
- Ez jinek bî me.Sarayek min û karxaneyek ( fabrik) min heye. Gelek mêr dixwazin bi min re bizewicin lê ez bi wan qaîl nabim.Divê ew camêrê ku bi min re bizewice.. Ji min re trambêlek nûjen, cilên ku mode ne, parfumên gelek biha bikirin. Jii bin gotin û daxwazên min rabin.. Ev þertên min ên yekemîn in.

Xalê Cindo stüyê xwe xwar kir û çavên wî deq bûn ne dikarîbû devê xwe veke. Ez û hevalê xwe rabûn me ji wan xatir xwest.Xalê Cindo :
- Lawo rawestin..ez di îmana bavê wê nim.. Ma va çi belaye we ji min re darxistiye.. Ma Cindo li ku trambêl li ku.. na ! nabe.. Ez helaliya xwe dixwazim. Bila nalet li malê dinê be.. Ka wê ji vir bigirin herin..

Piþtre gelek wext derbaz bû Gabriella xanim rabû û got :
- Þertên min ewin, ew ku neyên cih tu nikari destê xwe bidî destên min..

Gabrilla xanim çû û piþtî demekê þûnve Eyþê xanim hat.. û xalê Cindo rabû berve çû û ew hembêz kir u got :
- Xezalên xelkê wek çamorin.Ez qurbana wê bejn û rindiya te..Tu helala minî.. Tobe ji niha pê de henek be jî ez tu gulê li ser tê bîhn nakim..


Adil Duran
http://www.xoybun.com/extra/slide/Unbenannt-2.swf
http://www.pdk-xoybun.com/nuceimages/Newroz_Kurdistan_PDK_Xoybun_x1.jpg
http://www.pdk-xoybun.com/nuceimages/Nexise_Kurdistane_PDK_b.jpg
Mafê Kopîkirin &kopîbike; PDK-XOYBUN; wiha, di xizmeta, Kurd û Kurdistanê daye : Pirojeya Kurdistana Mezin, Pirojeyên Aborî û Avakirin, Pirojeyên Cand û Huner, Lêkolîna Dîroka Kurdistanê, Perwerdeya Zimanê Kurdî, Perwerdeya Zanîn û Sîyasî, Weþana Malper û TV yên Kurdistane. Tev maf parastî ne.
Weþandin:: 2006-06-21 (3453 car hat xwendin)
[ Vegere ] | PRINTER