Mahîr Berwarî : Karesata Helebçe dobare dibe ! ! !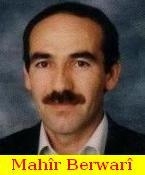 Karesata Helebçe dobare dibe ! ! !
Hejde sal di borin, karesata hova Helebçe her li pêþ çave, her wekî dohî rûdaî li cem qurbanîyên vê karesatê û cemawerê Kurdistanê, we bi sedan sala dê vekêþit, we binebir nabît, ya boye sombila drindeyî û bêwîjdanî û zulim û binebirkirin û qirkirina gelê Kurdistanê û hovatîya bê toxîba dagirkerên Kurdistanê, beramberî gelê Kurdistanê yê hejar û bê tawan …

Piranîya Kurdistaniya wesan bo di çon, ko piþti rijêma gorbegora genîya bea'sa Sedamî biherife, wê Êraq bi Kurdistan ve bibe ( þama þerîf ), wek demê Mihemed Mehdî lê bihêt, wê Gurg û Mîh bi hevra biçêrin !!!

Lê beruvajî derkeft, ewên berê di çeperekî da bun û xewnên binefþî û efsaneyî didîtin, evro hevrikên hevin, keftine gîyanê hev.

Gel di navbeyna wanda diperçiqe, û mijûlî ji binbirna hevin, beruvajî lê hat, ewên heta dohî li kolana bun û ji tirsa rijêmê konek nebu xwe têda veþêrin li Êraqê, we li Kurdistanê bi serbilindî û serferazî di jîyan û karê xwe yê sîyasî û dimokrasî dikir, di ser wî destudarê alozê berteng bibone noj li ser gîyanê Kurdistanî ya, taybet malbatên hejarên gonda, xelk li wê hûvîyê bun, heke baþîya neken wê ji me ve bin û bi sermeda ne hêne ve, lê ew jî bero vajî bu, ev rênîn û boçone bi þaþî fam kir bon, anko wesan dernekeft, we em bi xwe bi çavê xwe dibînîn, halê niwêner û wezirên Kurdistanê çiye didestê wan da … ? Ewên dohî Welat ( dewlet )bo Kurdistanê dixwastin, îro piranîya wan jî ji otonomîyê qulîpîne û we Sedamî tawanbar dikin, ka çawan rêkeftina 11 adarê mor kir … ?

Cihê daxêye ko heta niha bikuj û tawanbarên vê karesatê û bi hezaran karesata di girtîne û her heyam, heyam di înine ser kenalên ragehandinê û berçavên qurbanîya û bêþermane hêriþa dikin ser didgehê û xwe bi azadî xwaz û xwedan maf dizanin, qurbanîya bi tawan dikin, we dadga hêþta li belga digerît, ew belge hêþta di kêmin bo dadgehî kirna tawanbarên kom koja Helebçe …

Ji layekê dîve germatî û hûvîya mezin ya qurbanîyên Helebçe û hemi þehidên Kurdistanê bi wan soz û peymanên hêz û partîyên Kurdistanî bon, ko demek dirêj bo di xebata çekdarî û veþartî û li çîya, mizgînî didan ko her tiþtê ji wan bihêt dema rêvebirna Kurdistanê bikeve destê wan û ji rijêma Sedamî rizgar bibin wê Kurdistanê biken beheþt, rihmet li beheþtê, xelkê bi zîndî û bi çavên xwe dît hevrikîya dinavbera partîyan da, her li demê serhildanê di berey Kurdistanî da ko ne demê hindê bo xwe pêve mijûl biken, divîya berjewendîyên netewî hemî gava li berçav bihên girtin û li serî berjewendî yên kesukî û partayetî bin ko bi daxve þerê qirêjê xwe kujîyê an bira kujîyê lê keft û bi destên xwe vê carê perlemento û hukmeta xwe xirab kirin û Kurdistan li baþur tûþî karesatê kirin, bi xoþ halîve niha li xwe vedigerin û wê hukumeta hevgirtî ava bibe. Herwesa rolê kavilkarîyê nerêni di talankirna bingehê aboriyê wi demi yê Kurdistanê, bi vala kirna Kurdistanê ji amîrên avakirnê û eletirîkê û rêvebirna welatî û froþtina wan bi erzanî bo dagirkerên Kurdistanê, ko welat wî demî zor pêtvî pê bu … Di ser hindêra rolê wan di xebat û pêþve birina pirsgirêka sîyasî ya Kurdistanî bi pirozve radigirin û nahêt ji birkirin, zehmetî û kedeka mezin jêra dayne û bi sedan hezar qurbanî gorî kirne …

Paþî vê hemîyê taybet þerê qirêjê birakojî û ew rûdanên bi xwe ve girtîn, Kurdistanî li xwe vegeran û hinekî hiþyar bun we li cem wan îspat bo ko cudahîyek mezin heya di nav bera gotgotk û xapandin û rastgoyî û piraktîk da, we bo tiþtekê negor û berçav ..

Paþî xwe ceribandina layenên Îslamî û girtina devera Helebçe û kontrolkirna wê, ew propagendên wan ko layenên Îslamî di valene ji layê gendelîya rêvebirnê, we ew wê tiþtekê balkêþ biken ji devera Helebçe ra, lê wanji çi tiþtekê balkêþ nekirin, beruvajî ewa hey jî, ji bin birin, we xwe îspat kirin ko ji layê prektiki ve di valane û tenê propagende û xoþxoþk û tenakirna Kurdistanî ya ne, çi codahî dinav bera wanda nîne, heylel wî yê bi xwe rakêþît, xelk jî bi qîr û cehenem …

Demek dirêje Helebçe keftîye ve bin kontro Hikumeta Herêma Kurdistanê / îdara Silêmanî yê .. Taybet piþtî azad kirna Êraqê ji rijêma genî ya Sedamî ji bal hêzên hevpeymana ve.. Bi îmkanên mezin û parekê hejî û berçav ji 17 ji sedê ya parê Êraqê ji bo Kurdistanê, we boye cihê mozayedên berpirs û karmendên Hikumeta Herrêma Kurdistanê we wezirên li Bexda, gelek wê pisyarê diken, ma harîkarî yên hinde mezin ji koçka komarî dîyarî bo ew þîeyên xwe di pira Kazîmîyê da havêti Dîcleî û harîkarîyên bo alozîyên Necef an mezarên li Samerra … Ka behra Helebçe … ? Barzan … ? Enfal û çarhizar gundên wêrankiriyên Kurdistanê … ? Ew seredanên wezîrên Êraqê û berpirsên parti û hikomî, bo avahîyê monomênta þehîdên Helepçe û rondikên tîmsaha, ew soz û peyman çi lê hatin, çi îna, ka ew gazinde, ew pêþnîyar bo berpirsa bo perlemênta Kurdistanê bo hikumeta herêma Kurdistanê … Ma demê hindê nehatiye destelatdar dilsoz tir kar biken, we li rewþa hejar û çîna belengaza û xêzan û li malbatên þehîda bigerin an divê karê berpirsa xwe badan û yê belengaza her xastin bît, ez bi bawerim ev þehmîzarîya hinde mezin neheza û dûvelankên dagirkerên Kurdistanê û xelkê di yê di gel têkel boy beramberî ( monomênt ), simbola þehîdên kîmya barana Helepçe û namosa Kurdistanîya kirî, hindek jî ji ber van egerên serî ye, we mezina ji mêj were gotîye … Heke Kurmê Darê ne ji Darê be çi car zewala wê naye … Yan agirê mirovî ji dehmanên mirovî berdibe mirovî…

Kurdistanî berê û niha gazîyên xwe digehînin serokê Kurdistanê da li hewara wan biçe û destê harîkarî û avedankirnê bi gehînê, lê zor pê nizanin ko berî çend sala û piþtî du hikumetîyê ji serokê Kurdistanê pêþnîyar kiri bu bo danana mikanîzmeka hejî bo piþikdarî kirina kabîna çarê ya Hikometa herêma Kurdistanê / îdara Hewlêrê bo piþikdarî kirin di vejandin û avedan kirina Helepçe û xizmetkirna þehîdan bi taybetî .. Ev ji xuya diket dilsozî û welatparêzî û dûrbînîya wî di mesele yên çarenos sazda .. Lê bi daxve ew mikanîzim bi cih nehat ji ber hinde alozîyên girêday serwerîyê ko her kesek îro pê dizane …

Eva li 16. Adarê . 2006 li Helepçe bi meþ û bilinkirna dirûþmê ( êdî nahêlin berpirs qest kene Helepçe ) û Gûzên xwe li ser dilê me biþkênîn ,li dûvda êriþî ser mezar u monimênta þehîdên xwe bi destê xwe û bi fîta nehez û dûvelank û dagirkerên Kurdistanê, carek dî hovîtîya xwe nîþan dan u xwe rü reþ kirin u dilê dojminên azadi yê u serferaziyê u kurd u Kurdistanê geþ u xweþ kirin, hizar qeda û bela vê bikevin kêmasî û rû reþî ji wan raye we bi vê nikarin rê li ber azadî û serxwe buna kurdistanê bigrin ev niþana nêzikîya mizgînî ya bi dewlet bunêye u tengavî ya dujmina ye…

Ev egerên me amaje pê dayîn û destnîþankirin, xirvebun li gel berjewendiyên nehez û dujmin û têkderên Kurdistanêû bi delîve wergirtin, ev jê derkeft, bihizra min ev zengileka bi tirse li ser pêþe roja rizgarîya Kurdistanê we serkir dayetîya Kurdistanê û cemawerê xweragirê kolneder hiþyar kirin li ser ko hêþta ew xebata dirêja bizava Azadi xwaza Kurdî kirî ji bo dimokratî kirna civaka Kurdistanê ya savaye û li destpêkêdaye, pêtvî li xwe rexne kirnê û li xwe vegeranê ne mukum tir û bi prektîktir kar bo biken ya hejî gotinê ewe ev rûreþîye bi destê xwe bi xwe û hindirî hatîye kirin lê ya berê bi destên dagir kera …

Kurdistanî li herçar parçên Kurdistanê bi mereqin ko bizanin eger û sûçdarên vê þehmîzarîyê kîne û bi zutîrîn dem bi lez û bi dijwarî bihên didgeh kirin, li pêþ çavên qorbanîya û cemawerê Kurdistanê. Cemawer di tirsin ewjî wek goneh karên kîmyayî bikevne nav civînên mehkema yan jî her bê deng biken, berkê biser daden an bi qirka hineka raden û binivînin …..

Li düv jêderê rojnama Hawlati ( http://www.hawlati.com ) ya roja 22.03 .2006 ko li Silêmanî yê derdikeve û li ser zarê niwênerê hikumeta Herêma Kurdistanê / îdara Silêmanî yê li Helepçe mamosta Þaho, binasên vê rûdanê yên destpêkî di êxite qirika Dr. fayêq Golpî serokê partîya ( partî çareserî dimokrati Kurdistan ) ko bi dûvelanka partîya ( PKK ) ê li baþurê Kurdistanê dihên nîyasîn …We herwesa Elî Ebdulezîz raberê bizotnewa Îslami le Kurdistan we bi vî rengî ….

Dr. Fayîq : Rolî nerenî hebo le xopêþandanekanda ....

Elî Ebdulezîz : Hoy hemo fîtneyek bo lem nawçe da ......

Lê herdu navbirîya ev tomete bi dur ji rastîyê dane zanîn we xwe bi diji vî karî naskirîne ...

Pisyar ewe demê hindê nehatîye em li xwe vegerin, berjewendîya netewî li pêþîya berjewendîyên partayetî û kesokî danêyn, dest ji dagirker û dojminên welatê xwe berdeyn, bibîne dûvelankên þehîdên xwe û axa xwe. Bo çi zimanê diyalogê yê biriye ? Her givaþtin û ji bin birna êk di kiloxê meda bît, ma em hêj pêve neçuyne dest ji binbirkirn û nehêlana êko du berdeyn, bawer bi teorîya pêkve jîyanê û ez heme to ji yê hey, tiþtên hevbeþ di navbera meda pir tirin ji yên nakok û hevrik, demê mozayede û xapandina û dirûþmên qebe û vala li Kurdistanê nemaye.

Ma dem nehatîye em rêz li kar û pîrozîya dadgehê bigirin ? We ev pirsgirêk û alozîyên rojane peyda di bin li dadgeha çareser bikeyîn, we Kurdistanî bi xwe biryar der bin, we rê li wan tometên bê belge û vala bihêt girtin, ji bo rastî bihêt berçav... Ev bi hindê çareser di bin, heke astê hiþyarîya netewi ya Kurdistanî ya li astekê berçav tir bît, we Kurdistanî xwe bi helwêst û berpirsîyar bizanin. Beramberi kêþa netewî ya Kurdistanî we ji bo kar biken, çi reng be, çi ol be, çi netewe be, ji çi Îdioloji be ... Ya giring Kurdistanî be, hemî berjewendî gorî berjewendîya welatî be ....

Dortmund, 28. 04. 2006


Mahîr Berwarî
mbarwari@hotmail.de
http://www.xoybun.com/extra/slide/Unbenannt-2.swf
http://www.pdk-xoybun.com/nuceimages/Newroz_Kurdistan_PDK_Xoybun_x1.jpg
http://www.pdk-xoybun.com/nuceimages/Nexise_Kurdistane_PDK_b.jpg
Mafê Kopîkirin &kopîbike; PDK-XOYBUN; wiha, di xizmeta, Kurd û Kurdistanê daye : Pirojeya Kurdistana Mezin, Pirojeyên Aborî û Avakirin, Pirojeyên Cand û Huner, Lêkolîna Dîroka Kurdistanê, Perwerdeya Zimanê Kurdî, Perwerdeya Zanîn û Sîyasî, Weþana Malper û TV yên Kurdistane. Tev maf parastî ne.
Weþandin:: 2006-04-29 (3799 car hat xwendin)
[ Vegere ] | PRINTER