Bela bimire..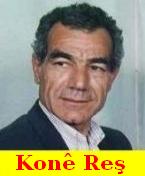 Bela bimire..

- 1 -
Bela bimire yź ku;
Ji bavź xwe fedī bike
Li kul ū xemźn xužka xwe
Guhdarī neke
Li diya xwe ne pirse
Adet ū teqalīdźn bav ū kalźn xwe
Jibīr bike
Zimanź xwe di ser guhan re
Bavźje ū
Deriyź xwe ji ber dost ū hevalan
Bi qepitīne
Bela bimire jźre ēźtire

- 2 -
Bela bimire yź ku;
Ji ronahiyź bi tirs be
Di tariyź de bi live
Wek kund li ser žikźran
Bi lūse
Di tengayiyź de
Kirasź neyaran li xweke
Di firehiyź de
Wek dīkź žinik
Bi qud-qud be..!
Serź xwe ji Partiyan re deyne
Berī ēiyayźn welatź xwe ū
Di her ēax ū demī de
Di her civat ū eywanź de
Karibe bistirź ū biraqise
Bela weke van kesan bimirin
Mirin ji wan re ēźtire

- 3 -
Cerź ku av tźde
Nesekine
Yź žikenandinź ye
Beriya ku xezal
Lź neēźrin
Ne warź koēeryź ye
Ēiyayź ku Pźžmźrge
Lź neyźn parastin
Ne cihź pižtdanź ye
Hevalź ku zikrež be ū
Bi hewildan be ku
Li ser pižta hevalźn xwe
cihekī ji xwe re
Di civatź de ava bike
Megrūdī ū eware ye
Qet lź nebe ewle ye
Bela bimire , mirin jźre ēźtire

- 4 -
Xincera ku ji kalan neyź der
Ya avźtinź ye
Tivinga bź berik be
Mīna žīža tenūrź ye
Kum ū kolozź ku
Serī gerim neke
Ne yź danīnź ye ū
Mirovź ku sinc ū wijdan
Wī ne hejīne
Mirin jźre ēź ye..

Qamižlo, 23. 05. 2004


Konź Rež
http://www.xoybun.com/extra/slide/Unbenannt-2.swf
http://www.pdk-xoybun.com/nuceimages/Newroz_Kurdistan_PDK_Xoybun_x1.jpg
http://www.pdk-xoybun.com/nuceimages/Nexise_Kurdistane_PDK_b.jpg
Mafź Kopīkirin &kopībike; PDK-XOYBUN; wiha, di xizmeta, Kurd ū Kurdistanź daye : Pirojeya Kurdistana Mezin, Pirojeyźn Aborī ū Avakirin, Pirojeyźn Cand ū Huner, Lźkolīna Dīroka Kurdistanź, Perwerdeya Zimanź Kurdī, Perwerdeya Zanīn ū Sīyasī, Wežana Malper ū TV yźn Kurdistane. Tev maf parastī ne.
Wežandin:: 2006-02-13 (2912 car hat xwendin)
[ Vegere ] | PRINTER