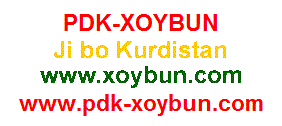 BILA TIRK BI EDEB Û MEDENÎ BIN -II-



(Serokomarê Fransa Jacques Chirac Kopengagen, 13.12.2002)

Rojnameya tirkan Hürriyet di her derfetê de (firsatîda) kîna xwe li dijî kurdan dirijîne. Kesên ku Tirkiyeyê rexne dikin û kesên ku kêfa wan jêre nayê piçûk dixîne û tiþtên pir xerab dibêjin. Hürriyetê ev tiþt ji xwe re kiriye wekî pîþe (meslek) an jî mijûlahî. Hürriyet (18.02.2003) vê carê jî êriþê dibe ser malbata Barzanî û di dinîvsa xwe de wiha dibêje:

"Derkete holê ku malbata Barzanî cihû ne." (Barzani Ailesi'nin Yahudi olduðu ortaya çýktý) û wiha berdewam dike:

"Malbata Barzanî ku di þerekî îhtimalî de naxwaze leþkerên tirk bikevin bakurê Iraqê, derkete holê ku bi eslê xwe ji kurdê cihû ne û malbata wan gelek haham perwerde kirine. Endamê Konseya Perwerdehiyê yê UCLA'yê Prof. Yona Sabar ku bi xwe ji kurdên cihû ye ev îdîa di pirtûka xwe de piþtrast kir. Dîrokzan Ahmet Uçar jî ji Arþîva Osmaniyan belgeyek der heqê hahamekî barzanî yê bi navê Sallum Barzanî ku pêþî bo Selanîkê û paþê jî bo Qudsê hatiye biderkirin (surgun) weþand.

Wekî ku tê zanîn jî Mele Mistefa Barzanî û kurê wî Mesûd Barzanî jî bi têkiliyên xwe yên bi Îsraîlê re têne nasîn. Îsraîl jî ji destpêkê ve heta niha serxwebûna kurdên Iraqê dixwaze û piþtgiriya wan dike." (Muhtemel bir savaþta Türk askerinin Kuzey Irak'ta yer almasýný istemiyen Barzani Ailesi'nin, Kürt Yahudisi olduðu ve ailenin pek çok haham yetiþtirdiði ortaya çýktý. Kendisi de bir Kürt Yahudisi olan UCLA öðretim üyesi Prof. Yona Sabar, yazdýðý kitapta bu iddialarý doðruladý. Tarihçi Ahmet Uçar da, Osmanlý arþivlerinde, Sallum Barzani adlý bir hahamýn önce Selanik'e, arkasýndan da Kudüse'e sürgün edildiðine dair bir belge yayýmladý. Bilindiði gibi, Molla Mustafa Barzani ile oðlu Mesut Barzani, Ýsrail'le kurduðu iyi iliþkilerle tanýnýyor ve Ýsrail öteden beri Irak Kürtleri'nin baðýmsýzlýðýný destekliyor.)

Niha ev gotin rast be an jî derew be tirkan çi elaqedar dike? Lê armanca Hürryetê û piraniya nivîskar û rojnameyên tirkan ne ew e ku der heqê kêþeya kurd û rêberên kurdan de rastiyê bibêjin belku armanca wan a herî mezin dijminahiya kurdan e. Ew bi vî awayî piçûkxistina kurdan e. Ew bi þovenîzma xwe ketine hingofiyek (saplanti) wisa mezin û kor bûne lewre riya xwe nabînin. Paranoya dewleta Kurdistanê, dewleta tirk û devrûtên wan xistiye nava depresyoneke mezin. (depresyon nexweþiya rihî û derûnî ye). Ji ber ku gelê kurd qedera xwe daye destê xwe û dixwaze di Rojhilata Navîn de bi xwe biryar bide û demokrasiyeke xurt di welatê xwe de pêk bîne. Lewma dewleta tirk û devrûtên wan bi vî awayî êrîþê dibin ser gelê kurd û dixwazin gelê kurd û malbata Barzanî piçûk bixînin û wan li ber kurdên misliman û bi taybetî li ber çavên kurdên Bakur reþ bikin. Ji ber ku ew jî dizanin hêdî hêdî roja kurdan ber bi ronahiyê ve diçe û vê yekê hêjayî gelê kurd nabînin. Dewleta Tirk û piraniya nivîsar û çapemeniya wan berê bi þantaj û gefan dest pê dikin. Gava þantaj û gefên wan bi kêr nayên îjar bi siyaseteke qirêj û kotîkirinê berdewam dikin.

Rojnameya Hürriyet di xizmeta wan de ye û daxwazên wan bi cih tîne. Di cîhanê de pir netewe hene ku ola (dîn) wan ji hev cuda ye. Tu kes vê yekê ne wekî kêmasî û nejî xerab dibîne. Ev di nav welatên medenî de wekî pir-rengî û pirdengî tê qebûlkirin.

Dewleta tirk her dem ev siyaseta xwe ya qirêj domandiye û kîna xwe li ser gelê me rijandiye. Kesên ji bo kurdan kar bikin, li ber çavên wan an ermenî ne û yan jî cihû ne. Hürriyet dinivîse û dibêje malbata Barzanî cihû ye û ev derketiye holê. Hürryet heta li ser kok û dîroka kal û bavên me kurdan disekine, bila berê ewil li ser koka bav û kalên xwe biskine. Di destpêka nivîsê de xuya ye ku meseleya wan ne ew e ku malbata Barzanî cihû ne yan jî ne cihû ne. Hürriyet dibêje: "Dibe ku þer li Iraqê biqewime û Barzanî nahêle leþkerên tirk herin bakurê Iraqê..." Niyeta wan li vir pir eþkere ye ku ew acizî û nerazîbûna wan li ser leþkerên tirk e ku gelê me nahêle here baþûrê Kurdistanê. Ji bo vê yekê jî Hürriyet neçar e pehîn û heriyê belav bike. Gotinek tirkan heye ku dibêjin: "Heriyê (çamûr) bavêje bila rêça wê bimîne." Ew di dîroka xwe de wekî din tiþtek baþ fêr nebûne.

Hürriyet dinivîse û dibêje: "Îsraîl ji berê ve alîkariyê dide serxwebûna kurdên Iraqê." Ev yek nerast e. Eger lobiya cihûyan li Amerîka û dewleta Îsraîlê alîkarî ji bona serxwebûna Kurdistanê bidana gelê kurd, dewleta tirk tu car nedikarî di cîhanê de cirîtê bavêje. Bi rastî yên ku temenê dewlet û pergela Kemalîzmê dirêj kir lobiya cihûyan li Amerîka û dewleta Îsraîlê ye. Eger cesareta wan heye bila li dijî Îsraîlê siyaset bikin. Dewleta tirk niha dixwaze bi destê zorê bikeve baþûrê Kurdistanê û gelê me yê Baþûr jî bixe bin bandora xwe û xewn û xiyalên kurdan pûç bike. Gelê me li Baþûr bi bawerî û bi biryar li ber xwe dide û nahêle dagirkerên tirk bikevin baþûrê Kurdistanê lewma vê heriyê davêjin malbata Barzanî. Bila dagirkerên tirk, Hürriyet, nivîskar û çapemeniya devrût vê yekê baþ bizanibin ku malbata Barzanî li her çar parçeyên Kurdistanêde kok û bingeh girtiye, topa wan lê bikeve jî nikare belav bike.

Malbata Barzanî û Mele Mistefa Barzaniyê nemir û qehreman di dilê gelê me de wekî deryayekê wekî behreke bêbinî cih girtiye û qet tu kes nikare nîfaqê têxe nava gelê kurd û malbata Barzanî. Ez gelê xwe yê Baþûr bi dil û can pîroz dikim ku ew nahêlin dagirkerên tirkan bikevin baþûrê Kurdistanê. Dewleta dagirker dixweze li baþûrê Kurdistanê bi kevirekî li du çûkan bide, yanî hem bibe xwedî petrol û hem jî astengiyan ji bo siyaseta kurdan derxîne. Ez bi hêvî û bawer im ku dê vê carê daxwaza dagirkeran di qirika wan de bimîne.






Navnîþana ev nûçe jê hatî: PDK-XOYBUN; wiha, di xizmeta, Kurd û Kurdistanê daye : Pirojeya Kurdistana Mezin, Pirojeyên Aborî û Avakirin, Pirojeyên Cand û Huner, Lêkolîna Dîroka Kurdistanê, Perwerdeya Zimanê Kurdî, Perwerdeya Zanîn û Sîyasî, Weþana Malper û TV yên Kurdistane.
http://www.pdk-xoybun.com - www.xoybun.com

Bo vê nûçeyê navnîþan:
http://www.pdk-xoybun.com - www.xoybun.com/modules.php?name=Sektions&op=viewarticle&artid=62