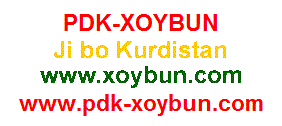 EWROPA DI PIRSA KURDAN DE ÇI DIFIKIRE? Û PIRSA SERXWEBÛNA KURDISTANÊ



FUAT AKPINAR
Almana, 25.09.2003

Axaftina min di semînera Duhokê de li baxçê Yekîtiya Nivîskaran.
Dem: Êvara 24.08.2003an

Hevalên birêz
Mêvanên hêja
Xwîþk û birayên ezîz

Ez pir kêfxweþ im, ku îro li Duhokê di semînereke wiha delal de bi we re me. Ev cara duwem e, ku ez tême Duhokê. Ez cara yekem di sala 1993an de hatibûm. Lê pir mixabin, wê demê derfet ne bû, ku em hevdu nas bikin. Ji ber vê yekê, ez pir kêfxweþ im, ku îro bi we re fikir û ramanên xwe parve bikim. Bi qasî ku kêfxweþ im, ewqas jî serbilind im! Ji ber ku Kurdistan ji destê dijminê zordar û xwîndaran bi temamî li Baþûr rizgar û azad bûye. Mirov li welatê xwe be, li ser axa bav û kalên xwe be, û hewceyî tu kesî nî be, serbilindiya herî mezin ev e.

Ez ji bo amadekirina vî semînerê ji Yekîtîya Nivîskarên Duhokê û bi taybetî ji Mamoste Hasan Silevanî re pir sipas dikim, ku ewî semînera wiha delal ji bo min amade kiriye.

Ez dixwezim bi gotineke navdar dest bi axaftina xwe bikim. Dibêjin,

Teyr kirine qefesa zêran, gotiye ax welatê min.

Yanê her çiqas jî mirov li xerîbiyê, ji aliyê madî (aborî) yan jî manewî ve baþ be jî, dîsa dibêje ax welat. Gotineke me pêþiyan jî pir mana wê heye û dibêjin: "Her tiþt li ser koka xwe þîn dibe" lê xerîbiya me Kurdan li derveyî welat ne ji kêfa me ye, ji ber ku gelek ji me ji tengasiyê û gelek jî ji me ji destê rejîm û dewletên zordar reviyane dewletên derve û çûne xerîbiyê.

Ewropa di pirsa Kurdan de çi difikire?

Beriya ku ez li ser rola Ewropiyan bisekinim, ku ew di pirsa Kurd û Kurdistan de çi difikirin, divê hinek li ser dîrok û rola Ewropiyan bisekinim. Ewropiyan ji dîroka xwe dersên baþ girtine û welatên xwe ji her alî ve pir baþ pêþ de birine. Mirov dikare bêje Ewropiyan welatên xwe, ji înfrastrûktûr bigire heta daristan, bax û baxçe, çil û çiya, der û ber wisa baþ çê kirine, neqiþandine û hemû derfetên aborî, parastina hundir, dewlet û bîrokrasiyeke ku di xizmeta gel de ye û pirsa tendiristiyê çareser kirine.

Mirov gava li dîroka Ewropiyan dinêre, dikare bibêje, Ewropiyan pir hovîtî û zilmetiyên mezin jî di dinyayê de kirine. Ez bawer im, ku hûn hemû faþîzma Hitler dizanin û ne hewce ye, ku ez li ser dîroka wê bisekinim. Lê belê Ewropiyan ji faþîzma Hitler dersên baþ girtine û bi hemû derfetên xwe lê dixebitin, ku bila dîrok ji bo wan dubare nebe. Ji ber wê yekê jî gelek dezgehên ji bo mafên mirovan avakirine û di dibistanan de zarokên xwe li ser dîroka xwe baþ perwerde dikin.

Ew nirx û bihayên ku îro Ewropî lê xwedî derdikevin, di saya Amerîka de çêbûne. Di pê þerê cihanê yê duwemîn de, ku bi taybetî bi saya Amerîka, Îngilîz û Fransizan ve dawî lê hate dayîn, Amerîka bi pilana "Marshall Plan" ji bo xurtkirina aborî demokrasiyeke tekûz anî Ewropa û bi taybetî Almanyayê. Ewropiyan jî bi bedeleke giranbiha welatên xwe ji nû ve avakirin û gelek pêþ de çûn û biserketin.

Mirov gava qala Ewropiya dike, helbet nikare bibêje hemû Ewropî wek hev in û hemû Ewropiyan wek faþîzma Hitler li Almanya kirine û tevgeriyane. Ji ber ku di navenda Ewropayê de welatê herî mezin Almanya ye, loma rola Almanya ji hemû dewletên Ewropayî zêdetir e û ev îro jî wisa ye. Almanya di warê aborî de wek motora Ewropayê ye. Lê divê rola Firansa jî neyê ji bîrkirin. Firansa jî li Ewropa rola duwemîn dilîze.

Hewceyê gotinê ye, ku mînak bidim, da ku rola van herdu dewletên Ewropa baþ bêye fêhmkirin. Dijî derketina þerê Sadam Huseyîn berê Almanya û pêre jî Firansa baþ rayê da, ku Almanya û Firansa di nava Ewropa de roleke bi kilît dilîzin. Lê mirov nikare bêje, Almanya ji aliyê dîplomasî ve xurt e. Di warê dîplomasî de Firansa ji hemû dewletên Ewropa pêþdetir e. Ji ber ku Firansa tecrûbên wê yên koloniyalîstî û dîplomasî hene û ji dîplomasiya cîhanê baþ fêhm dike.

Gava van herdu dewletên mezin li Ewropa di mijarekê de bi hev re tevbigerin û tiþtan pêþneyar bikin, dewleteke din ya Ewropa li dijî wan dernayê. Li aliyê din ji bilî YE di navbera Almanya û Firansa de pêwendiyên siyasî yên di navbera herdu dewletan de wisa hatine pêk anîn, ku herdu dewlet çend mehan carê bi serkokên dewletên xwe têne ba hev û di mijarên siyaseta Ewropa de biryaran didin û gotinên xwe bi hemû dewletên Ewropa re didin qebûlkirin. Yanê di nava YE de rola Almanya û Firansa zaf zêde ye, herdu dewlet bi hev re li ser pir mijaran tevdigerin û di siyasetê de ji gotinên hev dernayên û bi hev re girêdayî ne.

Bi kurtayî rewþa Almanya

Almanya heta ku dawiya Hitler hat di dîroka xwe de tu demê demokrasî nedîtibû. Mirov gava li dîroka Almanya dinêre, Almanya her demê bi desthilatiya qiral, mîr, beg û axan hatiye îdarekirin. Loma heta sala1950î Almanya ne demokrasiyeke xurt û ne jî mafên mirovan dîtibû. Almanya di dawiya þerê cihanê de xwe gihand zagona bingehîn ya demokirat. Zagona bingehîn li Almanya di saya Amerîka de hate damezirandin. Lê mirov nikare bêje, li tu welatekî Ewropa demokrasî tunebû. Welatên Skandînav pir beriya þerê cihanê yê duwemîn demokrasiya xwe avakiribûn. Lê Hitlerê faþist êriþî wan kir û xwest demokrasiyê li Ewropa ji holê rake; û di dawiya dawîn de bi xwe ji holê rabû û kete çopa dîrokê.

Rewþa Kurdan li Ewropa bi taybetî li Almanya

Rewþa Kurdên li Ewropa û bi taybetî Kurdên li Almanya ji ber sedemên nebaþ, yên ku di sala 1993an û 1994an de ji aliyê Kurdan ve hatine kirin pir xerab bû û Ewropiyan hên jî ew bûyerên ne baþ li ser erdê wan ji aliyê Kurdan ve hatine kirin ji bîr nekirine. Ez baþ dizanim, ku di salên 70ê û 80ê de, gava me ji Almana re qala Kurdan dikir, sempatiyeke pir bilind ji bo Kurdan hebû. Wê demê gava qala Kurdan dibû, Almana nivîskarên xwe yên navdar Karl May dianîn bîra xwe û digotin, Karl May li ser Kurdistanê nivîsiye. Karl May bixwe Kurdistan nedîtiye. Ewî piraniya jiyana xwe di zîndanên Almanan de derbas kiriye. Di sala 1912an de çûye ser heqiya xwe. Karl May tiþtên li ser Kurdan nivîsiye fantazî ne, lê gelek rastî jî di nivîsên wî de hene. Ewî nêzîkî 60 pirtûk li ser gelek welat û milletan nivîsîne. Ji ber ku edebiyata wî gelek dewlemend e, loma hemû dibistan û mamoste, pirtûkên wî pêþniyarî zarokên ku diherin dibistanan (mekteb) dikin, da ku zimanê wan pêþde here.

Lê pir mixabin, ku ez nikarim bêjim, ev sempatî îro jî di nava Almanan de ji bo Kurdan berdewam e. Bi taybetî li Almanya û welatên Ewropa yên din li dijî Kurdan antîpatî heye.

Her çiqas dewletên Ewropa di tu demê de di pirsa çareserkirina Kurd û Kurdistanê de pozîtîv ne fikirîne, bûyerên xerab ku ji aliyê Kurdan ve hatine kirin, têkilî bi Ewropiyan re hên xerab kir û ew bûyer ji dewletên Ewropî re bûne hacet (malzeme).

Ji bo astengkirina pirsa Kurdan, dewleta Tirk jî vala nasekine. Dewleta Tirk bi hemû derfetên xwe li Ewropa ji Kurdan re astengiyê derdixe, gelê me înkar dike û li dijî hemû heyiyên me bêrêziyê dike.

Welatên Ewropa jî ji ber ku menfiat û berjewendiyên wan li cem wan di ser her tiþtî de ne, loma pirsa Kurdan li cem Ewropiyan derbas nabe. Her çiqas Ewropiyan dezgehên mafên mirovan çê kirine, lê ew dezgehên mafên mirovan bi taybetî ji bo hemwelatiyên xwe çêkirine. Dewletên Ewropa bi salan e bi dijminên gelê Kurd re dan û stindinê dikin. Pirsa çareserkirina Kurd û Kurdistanê heta niha di rojev û mijara welatên Ewropî de nebûye û çareserkirina pirsa Kurdan wan eleqeder nake.

Ji bo ku pirsa me Kurdan gelê Ewropiya eleqeder bike, divê em xebateke bêwestan bikin û xwe li cem wan, wek me xwe bi Amerîka ve daye qebûlkirin, bi Ewropiyan jî bidin qebûlkirin. Lê pir mixabin di vî warî de heta niha zêde kar nehatiye kirin. Helbete têkiliyên Kurdistan û dewletên Ewropa bi hev re hene, lê ne bi awayekî sîstematîk e.

Pêwendî û diyaloga bi Amerîka re çiqas pêwist e, pêwendî û diyaloga bi Ewropiyan re jî ewqas pêwist e. Eger dewletên Ewropa bizanibin, ku berjewendiyên wan bi Kurdan re hene, ez bawer dikim dê di pirsa Kurdistanê de fikir û ramanên xwe biguherînin.

Divê em Kurd bi hemû derfetên xwe baþûrê Kurdistanê him di nava Kurdên Bakur, li Rojhilatê Kurdistanê, li Baþûrê Biçûk û bi taybetî dewleta Kurdistan di nava navnetewî de baþ bidin naskirin.

Di dinyayê de ji bona îdara dewletekî bi taybetî du tiþtên pir pêwîst wek stûn hene.

1. Asayiþa hundir, polês û leþker
2. Rewþa aborî

Eger dewleteê ev xalên li jor anîbin cih, ew dewlet dewlet e û dikare bi serbilindî di nava dinyayê de cihê xwe bigire. Baþûrê Kurdistanê ev xal baþ aniye cih, lê pir mixabin, baþ di dinyayê de nedaye naskirin. Ev jî kêmasiya me ya herî girîng e.

Welatê me pir dewlemend e û têra her kesî dike. Divê bi taybetî ji îro þûnde her tiþt ji bo
Menfiat û berjewendiyên Kurdistanê be. Her çiqas di nav 12 salan de kêmasî hebûn jî dîsa gelê me baþ rayê cîhanê da, ku ew di nava ewqas tengasiyan de welatê xwe bi serbilindî îdare kirin, ji mafên xelkê re hurmet girtin û heqên mînorîtan hindikayî (biçûk) ku li Kurdistanê dijîn dan wan.

Ev ji bo me kurdan ne tenê li Kurdistanê, li Ewropa û Amerîkayê jî serbilindî ye; em dikarin singên xwe xwurt bikin, bidin pêþ û bêjin di welatê me de demokrasî heye.

Hewceyî gotinê ye, ku bêjim, ew karên ku tên kirin, girîng e em Kurd van karan di raya giþtî de jî baþ bidin naskirin, da ku welatên beyanî jî baþ bibînin, em Kurd gelek bi esil in. Ew tiþtên em ji bo miletên biçûk dikin, ne ji bo ku mînanî Tirk û Ereban xelkê bixapînin, dikin. Ji ber ku em gelek bi þan û bi þeref in, loma em van tiþtan dikin, ji ber ku em ji hurmet û înasaniyetê fam dikin.

Divê Kurd bizanibin çi dixwazin, tu car bi Amerîka re nekevin nava þaþiyan û di pirsa Kurdistanê de ne bi demeke nêzîk, divê bi stratejiyeke dirêj li meselê binêrin.

Pirsa gelê Kurd niha di qada navnetewî de pir bi fireh û pozîtîv tê guftûgokirin. Divê em Kurd vê îmkanê ji destê xwe ber nedin û ji bo pêþdaçûyîna vê rewþa baþ kar û xebateke diha bi profesiyonel û dîplomatîk bimeþînin. Dibe ku konfilîkt di nav Iraqê de pir çêbibin û partiyên me yên Baþûr bi siyaseteke hostatî pirsan çareser bikin û nekevin nava þaþiyan.

Hevalên berêz

Tevgera Kurd heta niha di nav cîhanê de rola xwe baþ nelîstiye. Ne tenê Tevgera Kurd, nivîskar û rewþenbîrên Kurd jî rola xwe baþ nelîstine. Siyaset êdî bi quweta milan, bi piraniya hejmara gelan û bi siloganan nameþe, siyaset ne wekî qire û zebeþan e, mirov li sûkê (bazar) bifroþe; siyaset bi aqil, bi ilim, teknolojî û dîplomasiyê dimeþe. Siyaseta ku bê vîn be ( bê îrade be), ev siyaset nikare xwe tiþtek bihesibîne û bi serbikeve. Pir mixabin ku me Kurdan rojeva xwe her dem aniye bi piranî li ser mafên mirovan û xerabiyên dijmin bi me kirine fetisandiye û kilît kiriye.

Pirsa Sexwebûna Kurdistanê

Dema îlankirina serxwebûna dewleta Baþûrê Kurdistanê ye an na?. Gelo serxwebûna Kurdistanê îlan bibe, dewletên der û dorê dê çi bikin? Dê ji me re tengasiyan derxin, êriþ bikin Kurdistanê û pêþiya tevgera me bigirin an na? Dewletên din dê di pirsa Kurdistanê de alîkariya me ya siyasî bikin an na? Û gelo em di sedsala bîst û yekê de êdî li ser serxwebûna Kurdistanê û ew dê çêbibe an na, an jî em îlan bikin an na dipeyivin? Ev pirsên han ji bo me hemû kurdan li her çar perçên Kurdistanê pirsine pir sirûþtî ne.

Ez bawer dikim, pirs ne ew e, ku dem,- dema îlankirina serxwebûna Kurdistanê ye an na? Pirsa here mezin ji bo me kurdan bi taybetî program û konsepteke baþ e!.

Bi bîr û baweriya min, min jî nedizanîbû û tu kesî jî ne dizanîbû, ku demên dawîn ji bo me kurdan dê wisa zû û pozîtîv bigerin, loma ne hewce ye, ku em êdî li ser van tiþtan zêde bisekinin. Tiþtê niha ji me kurdan re herî girîng wek min li jorê got program û konsepteke baþ e. Wekî din - bi baweriya min - serxwebûna Kuristanê ji bo me kurdan hatiye ber derî û li hêviya me û cesareta me sekiniye. Lê em gava ji îro þûnde hên li ser van pirsan bifikirin û bêjin, dem hatiye an na?, emê pir demên vala derbas bikin.

Ez di wê baweriyê de me, ku divêt hazirî ji bona îlankirina Serxwebûna Kurdistanê bêye kirin. Ev jî heqê me ye, tu kes ji me re nikare ji îro þûnde bêje, hûn çima tiþtekî wisa dixwazin an jî dikin. Ewên bêjin, na û serên xwe li der û dora bixin, ne xêrxwaz in.

Kurd êdî quweteke mezin in û dikarin roleke pir girîng bilîzin. Baþûrê Kurdistanê dikare ji îro þûnde ji geostratejiya xwe baþtir îstîfade bike.

Belê rast e divê mirov di pirsan de, bi taybetî pirsa serxwebûna Kurdistanê de, objektîv be û wisa jî tevbigere. Lê belê divê programa mirov bi daxwaz û dîtinên gel be.

Vîna (îrade) gelan pir girîng e û di ser her tiþtî re ye. Yanê vîna (îrade) gel di ser her partî û di ser her serok û rayadarên dewlet û miletan re ye. Mirov nikare keda partî û rêxistinan înkar bike, lê belê divê partî û rêxistin jî bizanin, ew di saya gel de dikarin li ser piyan bimînin.

Niha li Iraqê rewþ ber bi avakirina siyasî û civakî ve dimeþe, gelê Kurd û yên din hêdî, hêdî birînên xwe derman dikin û rewþ baþ tê xuyakirin. Dê di pêþerojê de hukumetek bê avakirin. Lê em hên nizanin dê ji kurdan re di dawiyê de çi derkeve holê?.
Çi dibe bila bibe, eger ew di nava Iraqê de bimînin û ji aliyê navneteweyî de neyên naskirin û pejirandin, wê çaxê ji me kurdan re garantiyeke sedî sed nîne.

Gava Kurd di nava Iraqê de bimînin û dewleteke federal bêye avakirin û di raya giþtî de jî bêye naskirin, dîsa jî garantî tune ye, ku paþê hukumetên li Iraqê werin ser text ji kurdan re tengasiyan dernexin, mafên ku ji kurdan re hatiye dayîn þûnde neyên girtin û êriþî baþûrê Kurdistanê neyê kirin.

Em Kurd mecbûr in îro van pirsan pirs bikin, ji ber ku mentalîta dewletên ku Kurdistan dagîrkirine mentalîteke ne demokratîk e. Li Rojhilata Navîn hemû dewlet bi dîktatorî têne îdarekirin. Ne tenê dewlet, lê belê pêþengên (elîtên) gelên Rojhilata Navîn jî bi giþtî di pirsa Kurdistanê de pir teng difikirin û mentalîta wan ya demokrasiyê tune ye.

Em Kurd soz û peymanên dagîrkeran baþ dizanin. Di Rojhilata Navîn de dewleteke ku mirov di pirsa Kurd û Kurdistanê de bi soz û peymanên wan baweriya xwe bîne tune ye. Di dawiya soz û peymanên wan de jenosîd, qirkirin, talanî, înkarî û barbarî heye. Ev jî ne bi dizî ye, eþkere ye û dinya-alem jî baþ dizane.

Kurd çiqas jî bi niyeta xwe ya baþ û durist qala biratî û dostaniya gelan bikin, ev di piratîkê de li Tirkiyê, Îranê, Iraqê û Sûriyê wisa nîne. Em bixwezin an jî nexwezin, ji destê zilma zordaran di nava gelê Kurd û gelên din de dijminahî heye û dijminahiyeke kûr e.

Divê Kurd ji niha de tedbîrên xwe yên serxwebûna Kurdistanê bigirin. Kurd ancax dikarin di Kurdistaneke Serbixwe de bê tirs û bi garantî di welatê xwe de bijîn. Wekî din dê her demê pirsgirêk û astengî di nava Kurd, Tirk, Ereb û Farisan de hebin. Dê her dem tirs hebe, ku dagîrker li dijî me tawanbariyên mezin bikin.

Tu kes nikare garantî bide, ku çend salên din þûnde rewþ dê ji kurdan re baþ be, an na? Ez bawer dikim, bersivdayîna vê pirsê pir zor e.

Li aliyê din, ne belû ye, ku di hilbijartina li Amerîka çêbibe de, Georg W. Bush vê carê jî di hilbijartinan de biser bikeve?!. Gelo desthilatiya Demokratan di pirsa Kurd û Kurdistanê de dê vê carê çawa be? Û Partiya Demokratan vê carê bi kîjan fabrîqên aqil û fikir re (Enstitutên siyasî) bixebite em nizanin û nikarin niha bersiva van pirsan jî bidin.

Bi bîr û baweriya min, vê carê Georg W. Bush dê di hilbijartinan de li Amerîka bi ser nekeve, ji ber ku li Amerîka ji niha de gelek pirsgirêkên aborî hene. Yanê her çiqas jî Bush dixwaze þerê Iraqê ji xwe re di hilbijartinan de bike malzeme, dê dîsa jî bi ser nekeve.

Eger DYA dixwaze demeke dûr û dirêj li Rojhilata Navîn bimîne û li wê derê demokrasiyeke xurt bide avakirin; daku aþtî di nava gelên Rojhilata Navîn de çêbibe û bi taybetî peymanên aþtî di navbera dewletên Ereb û Îsraîl de çêbibin, hewceya wan jî bi Kurdistaneke serbixwe heye.

Lê li aliyê din divê dijayetiya Amerîka jî neyê kirin. Siyaseta dijî Amerîka siyaseteke îfalaskirinê ye. Eger mirov bixweze siyaseteke realpolîtîk bimeþîne, divê ev siyaset ne siyaseteke antî Amerîka, yan jî antî Îsraîl be.

Amerîka dikare di Rojhilata Navîn de ji her kesî bêtir baweriya xwe bi Kurdan bîne. Ji ber ku Kurd di Rojhilata Navîn de ji hemû milet û dewletan zêdetir bi laîk e, wek yên din di pirsa olî de teng nafikirin û radîkal nînin. Rola Amerîka ji Kurdan re pir pêwist û payebilind e.

Nîþe: Min di pirsa serxwebûna Kurdistanê de ji hinek nivîsên xwe yên berê jî îstîfade kir.





Navnîþana ev nûçe jê hatî: PDK-XOYBUN; wiha, di xizmeta, Kurd û Kurdistanê daye : Pirojeya Kurdistana Mezin, Pirojeyên Aborî û Avakirin, Pirojeyên Cand û Huner, Lêkolîna Dîroka Kurdistanê, Perwerdeya Zimanê Kurdî, Perwerdeya Zanîn û Sîyasî, Weþana Malper û TV yên Kurdistane.
http://www.pdk-xoybun.com - www.xoybun.com

Bo vê nûçeyê navnîþan:
http://www.pdk-xoybun.com - www.xoybun.com/modules.php?name=Sektions&op=viewarticle&artid=14